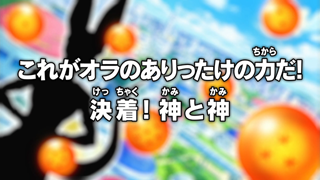 これがオラのありったけの力だ!決着!神と神
Kore ga Ora no Arittake no Chikarada! Ketchaku! Kami to Kami
This is Every Last Bit of My Power! The Battle of Gods Concludes!
Episode Information
Episode Summary
As Goku continues to battle against Beerus as just a regular Super Saiyan, their fight moves from space back down to the ocean. Beerus starts to overwhelm Goku, nullifying his Kamehameha and even seeming to split into multiple bodies that blast him all at once. Beerus declares victory, but Goku gets a second wind and pushes Beerus all the way back up into space again. However, the effort exhausts him and he reverts back to his regular, non-Super Saiyan form. With Goku apparently out for good now, Beerus compliments Goku on forcing him to use so much power. For a second there he even regretted listening to his prophetic dream, but in the end he still won, as expected. He finger-flicks Goku on the head, the same move that began the fight, and so a fitting way to end it. As Goku falls down and begins burning up in the atmosphere, images of his friends and family flash before him, and he shoots back up, a Super Saiyan once more.
Beerus is outraged that Goku could not just let the fight end at such a perfect spot, but Goku says he cannot give up until he has hit Beerus with the last few remaining scraps of power he has left. Goku charges another Kamehameha which Beerus counters with a small energy ball, but when the two attacks hit each other they combine into a single enormous mass of energy, resembling a star. Beerus sends this mass at Goku, who struggles against it and manages to destroy it in the end, but at the cost of his remaining power. He once again reverts to his regular form and plummets down through the atmosphere, this time his energy truly exhausted. Thankfully, Vegeta catches him before he crashes down onto the cruise ship, though he is annoyed that Goku managed to lose despite all that power everyone donated to him.
Following close behind, Beerus lands on the ship, and everyone braces themselves for a fight. Before Beerus can unleash an attack though, Mister Satan's cellphone suddenly goes off: it's Pizza, calling about the press conference Satan requested earlier. Satan yells that this is not the right time for that, but Pizza says the reporters could not wait and headed over there on their own. At that moment, the reporters' helicopter flies up and they begin filming, and Gohan comments that the world really is ending with a whimper. Whis congratulates Beerus on his victory and suggests they go home, but Beerus notes that he promised to destroy the Earth if he won. Goku begs him to stop, but Beerus charges up an attack, fires… and misses.
It turns out, Beerus has fallen asleep standing up! Whis explains that Beerus has gone a bit soft due to spending most of his time sleeping, watching anime, and various other things. Using his full power without warming up first was apparently too exhausting for him. He says Beerus probably will not wake up again for a while, and takes him back home, thanking Goku for "playing" with Beerus and advising them all to prepare an adequate supply of pudding for when Beerus returns. As Whis carries Beerus home through space, he asks him how long he intends to pretend to be asleep. Beerus protests that he really was sleeping, though he does admit that when he told Goku he was fighting with 100% of his power, this was simply a lie in order to help draw out Goku's true power. Off on his planet, Kaiō comments that despite how Goku loves to fight on his own, his circle of friends keeps expanding, and now he has made friends with even the God of Destruction.
On Earth, Goku is chowing down on a well-deserved meal, when Gohan formally announces to him that he and Videl are having a child. Goten congratulates his dad on becoming the second best in the universe, and Goku tells Vegeta he will get to become a Super Saiyan God next time. However, Vegeta is not interested in a transformation that is only going to get him to "second best", and vows to surpass Goku, Beerus, and Super Saiyan God all through his power alone. When Goku notes how powerful Vegeta became after Bulma was slapped, Piccolo realizes that Goku had actually already teleported there early on and was watching secretly to see how things played out. Goku apologizes, saying he did this in order to try and formulate some sort of strategy by observing Beerus… even though nothing came out of it. Meanwhile, Pilaf, Shuu, and Mai row off into the sunset, with Pilaf vowing to get the Dragon Balls next time.










Next Time:


"Heroic Satan, Cause a Miracle! A Challenge From Outer Space"
Episode Credits
All credits listed below are as originally presented in the episode. The credit structure used in Dragon Ball Super is actually quite simple; the staff involved with the production of the series as a whole are listed in the opening credits and the staff involved with this specific episode are listed in the ending credits. All original credit errors have been corrected to maintain accurate spellings throughout the site. For more information and a complete listing of the series staff, visit the Production Guide.
Cast Credits
孫悟空

Son Goku

孫悟飯

Son Gohan

孫悟天

Son Goten

野沢雅子

Masako Nozawa

 

 

ブルマ

Bulma

鶴 ひろみ

Hiromi Tsuru

ベジータ

Vegeta

堀川りょう

Ryō Horikawa

ピッコロ

Piccolo

古川登志夫

Toshio Furukawa

トランクス

Trunks

草尾 毅

Takeshi Kusao

ミスターサタン

Mister Satan

石塚運昇

Unshō Ishizuka

ピラフ

Pilaf

千葉 繁

Shigeru Chiba

シュウ

Shuu

玄田哲章

Tesshō Genda

マイ

Mai

山田栄子

Eiko Yamada

ビルス

Beerus

山寺宏一

Kōichi Yamadera

ウイス

Whis

森田成一

Masakazu Morita

キビト界王神

Kibito-Kaiōshin

太田真一郎

Shin'ichirō Ōta

老界王神

Elder Kaiōshin

田中亮一

Ryōichi Tanaka

ピーザ

Pizza

森下由樹子

Yukiko Morishita

レポーター

Reporter

藤本たかひろ

Takahiro Fujimoto

ナレーション

Narration

龍田直樹

Naoki Tatsuta
Opening Credits
原作・ストーリー原案・キャラクター原案

Original Author / Story Draft / Character Drafts

鳥山 明

(集英社「ジャンプコミックス」刊)

Akira Toriyama

(Published in Shueisha's "Jump Comics")

企画

Planning

情野誠人

(フジテレビ)

Masato Seino

(Fuji TV)

渡辺和哉

(読売広告社)

Kazuya Watanabe

(Yomiko Advertising, Inc.)

森下孝三

Kōzō Morishita

プロデューサー

Producer

野﨑 理

(フジテレビ)

Osamu Nozaki

(Fuji TV)

佐川直子

(読売広告社)

Naoko Sagawa

(Yomiko Advertising, Inc.)

木戸 睦

Atsushi Kido

音楽

Music

住友紀人

Norihito Sumitomo

オープニングテーマ

Opening Theme

作詞

Lyrics

作曲

Composition

唄

Vocals

「超絶☆ダイナミック!」

"Chōzetsu ☆ Dynamic!"

森 雪之丞

Yukinojō Mori

吉井和哉

Kazuya Yoshii

吉井和哉

Kazuya Yoshii

(日本コロムビア/トライアド)

(Nippon Columbia / Triad)

製作担当

Production Manager

末竹 憲

Ken Suetake

美術デザイン

Art Design

行 信三

Shinzō Yuki

色彩設計

Color Design

堀田哲平

Teppei Hotta

キャラクターデザイン・作画監修

Character Design & Supervising
Director of Animation

山室直儀

Tadayoshi Yamamuro


シリーズディレクター

Series Director

地岡公俊

Kimitoshi Chioka

制作協力

Production Coordination

東映

Toei

制作

Production

フジテレビ

Fuji TV

読売広告社

Yomiko Advertising, Inc.

東映アニメーション

Toei Animation
Ending Credits
脚本

Script

キング・リュウ

King Ryū

声の出演

Voice Performances

~~~~

協力

In Cooperation With

青二プロダクション

Aoni Production

原画

Key Animation

阿形大輔

Daisuke Agata

久保充照

Mitsuteru Kubo

水野悦明

Yoshiaki Mizuno

張 紹偉

So-wi Jang

眞部周一郎

Shūichirō Manabe

mico animation

mico animation

丸山大勝

Hirokatsu Maruyama

中村プロ5st

Nakamura Production 5st

手塚江美

Emi Tezuka

菁画舎

Seigasha

月乃むあ

Mua Tsukino

アートベースバン

Art Base Ban

永樹龍博

Tatsuhiro Nagaki

studio NEUN

studio NEUN

梨沢孝司

Kōji Nashizawa

洪 範錫

Beom-seok Hong

山下正浩

Masahiro Yamashita

小松 温

Atsushi Komatsu

佐々木一浩

Kazuhiro Sasaki

青柳重美

Shigemi Aoyagi

池田雅人

Masato Ikeda

大西 亮

Ryō Ōnishi

豆豆動画

DouDou Animation

大内智美

Tomomi Ōuchi

久保聡一郎

Sōichirō Kubo

上久保聡美

Satomi Kamikubo

楮木知美

Tomomi Kajiki

Toei Phils.

Toei Animation Philippines

ブリッジ

Bridge

 

動画

In-Between Animation

小林あゆみ

Ayumi Kobayashi

諌山愛莉

Eri Isayama

A-Line

A-Line

Toei Phils.

Toei Animation Philippines

山北貴大

Takahiro Yamakita

 

豆豆動画

DouDou Animation

武遊

Buyū

彩色

Digital Coloring

山本真吾

Shingo Yamamoto

A-Line

A-Line

Toei Phils.

Toei Animation Philippines

上條有香

Yuka Kamijō

豆豆動画

DouDou Animation

武遊

Buyū

色指定

Color Designation

加藤良高

Yoshitaka Katō

デジタル特殊効果

Digital Special Effects

下川信裕

Nobuhiro Shimokawa

デジタルアーティスト

Digital Artist

牧野 快

Kai Makino

背景

Backgrounds

徳重 賢

Ken Tokushige

井芹達朗

Tatsurō Iseri

佐藤美幸

Miyuki Satō

デジタル撮影

Digital Photography

AMGA

AMGA

競 昌則

Masanori Kisoi

服部 安

Yasushi Hattori

平井智朗

Tomoaki Hirai

姜 亜偉

Ai Kyō

岡田由紀

Yuki Okada

西 重成

Shigenari Nishi

杉浦仙一

Sen'ichi Sugiura

茂木邦夫

Kunio Mogi

 

エンディングテーマ

Ending Theme

作詞

Lyrics

作曲

Composition

編曲

Arrangement

唄

Vocals

「スターリングスター」

"Starring Star"

首藤義勝

Yoshikatsu Shutō

首藤義勝

Yoshikatsu Shutō

KEYTALK & NARASAKI

KEYTALK & NARASAKI

KEYTALK

KEYTALK

(ビクターエンタテインメント)

(Victor Entertainment)

音響監督

Audio Director

本田保則

Yasunori Honda

編集

Editing

西村英一

Ei'ichi Nishimura

録音

Recording

伊東光晴

Mitsuharu Itō

録音助手

Recording Assistance

新垣未希

Miki Aragaki

音響効果

Sound Effects

西村睦弘

(フィズサウンド)

Mutsuhiro Nishimura

(Fizz Sound)

記録

Documentation

沢井尚子

Shōko Sawai

アシスタントプロデューサー

Assistant Producer

出樋昌稔

(フジテレビ)

Masatoshi Dasuze

(Fuji TV)

静 美保

(読売広告社)

Miho Shizuka

(Yomiko Advertising, Inc.)

音響製作

Audio Production

タバック

TAVAC

録音スタジオ

Recording Studio

サウンドイン

Sound Inn

東映デジタルセンター

Toei Digital Center

オンライン編集

Online Editing

東映デジタルラボ

Toei Digital Lab

音楽協力

Music In Association With

東映アニメーション音楽出版

Toei Animation Music Publishing

フジパシフィックミュージック

FUJIPACIFIC MUSIC

企画協力

Planning In Cooperation With

集英社「Vジャンプ」編集部

Shueisha's "V-Jump" Editorial Department

演出助手

Assistant Director

川崎弘二

Kōji Kawasaki

製作進行

Assistant Production Manager

平澤風人

Fūto Hirasawa

美術進行

Art Manager

西牧正人

Masato Nishimaki

仕上進行

Finishing Manager

河本隆弘

Takahiro Kawamoto

CG進行

CG Manager

渡辺克博

Katsuhiro Watanabe

演技事務

Talent Coordination

角 康昭

Yasuaki Tsuno

協力プロダクション

A Cooperative Production With

A-Line

A-Line

広報

Public Relations

山本麻未子

(フジテレビ)

Mamiko Yamamoto

(Fuji TV)

美術

Art Director

行 信三

Shinzō Yuki

総作画監督

Chief Animation Supervisor

辻 美也子

Miyako Tsuji

作画監督

Animation Supervisor

眞部周一郎

Shūichirō Manabe

小山和弘

Kazuhiro Koyama

演出

Director

畑野森生

Morio Hatano