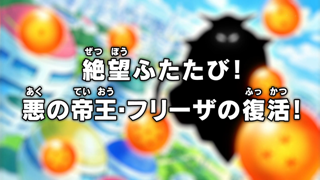 絶望ふたたび!悪の帝王・フリーザの復活!
Zetsubō Futatabi! Aku no Teiō Furīza no Fukkatsu!
Despair Once More! Revival of the Evil Emperor, Freeza!
Episode Information
Episode Summary
In some gloomy corner of the afterlife, a huge lake conceals beneath it a surprisingly cheerful-looking field of flowers. In this field, faeries and stuffed animals frolic and play instruments. This place is actually Freeza's personal Hell: he is trapped inside a cocoon that hangs from a nearby tree, forced to observe these cute antics. The faeries try and get him to cheer up, but he simply shouts in anger.
Out in space, Sorbet and his crew are recovering from the damage their ship sustained from their encounter with Champa and Vados. Between this and the various rebellions, their army has already lost 60% of its soldiers. If things continue at this rate, they will not be able to hold together much longer. Sorbet declares that at this point, their only option is to revive Freeza. Tagoma is skeptical that just one person could make any difference, but Sorbet explains that in the old days Freeza's power was unmatched and feared throughout the entire universe. With him back, Sorbet's simulation predicts that their army will be able to gain control of 70% of the universe. Although they cannot locate the Namekians, they do know of Earth's Dragon Balls and that others on Earth besides just Goku's friend can locate them. In fact, it seems that the Pilaf Gang is looking for them at that very moment. Sorbet selects Tagoma to accompany him to Earth, as taking a larger force runs the risk of being spotted by the Saiyans.
On Beerus' planet, Goku and Vegeta team up against Whis in a sparring match, but even together the two are still no match for him. Whis says that their speed has improved greatly, but it still is not up to snuff. In fact, he has managed to sign his "autograph" on their clothes without them even realizing it. Whis criticizes Vegeta for being too tense, which prevents him from acting to his full capacity… but conversely, Goku is too relaxed, and often lets his guard down (he sucker-punches Goku to demonstrate).
At Gohan's house on Earth, Piccolo is baby sitting Pan while Gohan and Videl are out shopping. He begins making funny faces to keep her entertained, and is startled when Gohan and Videl suddenly return home. But then Piccolo senses something… Sorbet and Tagoma have arrived on Earth, and quickly track down the Pilaf Gang just as they locate the final Dragon Ball. Though the group is reluctant to part with their Dragon Balls at first, Sorbet convinces them to cooperate by firing a blast from his ring. With the Pilaf Gang's cooperation, Sorbet summons Shenlong, and back at Gohan's house they notice that they sky has suddenly gone dark.
Sorbet wishes for Freeza to be brought back to life but Shenlong explains that Freeza's body was cut into pieces, and that there would be no point in summoning his soul with his body in such a state. However, Tagoma believes that they can simply use their most advanced medical machines to regenerate Freeza's body. With the wish made, pieces of Freeza's cybernetic body reign down from the sky, squirming around on the ground. Shenlong asks what the two remaining wishes are. Sorbet considers reviving Freeza's father as well, but before he can speak, Shuu steps in and wishes for a million zenny, and Mai wishes for the best ice cream in the world. With these wishes granted as well, Shenlong departs.
Outraged, Sorbet wants to kill the Pilaf Gang, but Tagoma tells him they have to get out of there as fast as possible, before the Saiyans arrive. Sorbet and Tagoma collect the squirming pieces of Freeza's body and deposit them into a special container. Even the Pilaf Gang helps out by picking up one of Freeza's eyes. Sorbet and Tagoma leave, but before departing Sorbet promises the Pilaf Gang that they will return soon… with Freeza, and soldiers too! As their ship takes off, a strange frog with antenna hops into view, and seems to recognize the spaceship…
Now left alone, the Pilaf Gang ponder these events. What the heck is a "Freeza", anyway? They consider using Shuu's million zenny to build a spaceship and flee the planet, but ultimately just settle on going to get some food. Back at Gohan's house, Piccolo and Gohan note that the sky has returned to normal and the strange ki has vanished. Though they are not sure what has happened, Piccolo has an uneasy feeling about it all.
Back on Sorbet's ship, Freeza's body is being regenerated inside their medical machine, this time in his first form, fully flesh and blood without any cybernetic parts. As before, Tagoma wonders if resurrecting Freeza is really necessary, but Sorbet points out that after the death of Freeza and the rest of the army's main leaders, people stopped fearing them and began to rebel. Tagoma only saw Freeza once, briefly, and did not find him that impressive. What if he does not live up to the hype? But Sorbet is adamant: though he did not have much interaction with Freeza either, what little he saw was enough to convince him of Freeza's power.
Shisami is angry at Tagoma's attitude, but before he and Tagoma can argue more, Freeza completes his regeneration. Emerging from the medical machine, his power causes all of the Scouters on board to break. Over on Beerus' planet, Goku and Vegeta are sweeping the stairs, when Goku has a nasty feeling… but Vegeta tells him to get back to work. Back on the ship, Freeza slowly gets a handle on the situation: "Can it be that I've returned to life?"










Next Time:


"A Warning From Jaco! Freeza and 1,000 Soldiers are Fast Approaching!"
Episode Credits
All credits listed below are as originally presented in the episode. The credit structure used in Dragon Ball Super is actually quite simple; the staff involved with the production of the series as a whole are listed in the opening credits and the staff involved with this specific episode are listed in the ending credits. All original credit errors have been corrected to maintain accurate spellings throughout the site. For more information and a complete listing of the series staff, visit the Production Guide.
Cast Credits
孫悟空

Son Goku

孫悟飯

Son Gohan

野沢雅子

Masako Nozawa

 

フリーザ

Freeza

中尾隆聖

Ryūsei Nakao

ベジータ

Vegeta

堀川りょう

Ryō Horikawa

ピッコロ

Piccolo

古川登志夫

Toshio Furukawa

トランクス

Trunks

草尾 毅

Takeshi Kusao

ビーデル

Videl

皆口裕子

Yūko Minaguchi

ピラフ

Pilaf

千葉 繁

Shigeru Chiba

シュウ

Shuu

玄田哲章

Tesshō Genda

マイ

Mai

山田栄子

Eiko Yamada

ソルベ

Sorbet

斎藤志郎

Shirō Saitō

タゴマ

Tagoma

中井和哉

Kazuya Nakai

シサミ

Shisami

稲田 徹

Tetsu Inada

ウイス

Whis

森田成一

Masakazu Morita

神龍

Shenlong

大友龍三郎

Ryūzaburō Ōtomo

参謀

Staff Officer

麻生智久

Tomohisa Asō

兵士

Soldier

藤本たかひろ

Takahiro Fujimoto

新井良平

Ryōhei Arai

服部想之介

Sōnosuke Hattori

妖精

Fairy

一木千洋

Chihiro Ikki

カエル

Frog

小西克幸

Katsuyuki Konishi

ナレーション

Narration

龍田直樹

Naoki Tatsuta
Opening Credits
原作・ストーリー原案・キャラクター原案

Original Author / Story Draft / Character Drafts

鳥山 明

(集英社「ジャンプコミックス」刊)

Akira Toriyama

(Published in Shueisha's "Jump Comics")

企画

Planning

情野誠人

(フジテレビ)

Masato Seino

(Fuji TV)

渡辺和哉

(読売広告社)

Kazuya Watanabe

(Yomiko Advertising, Inc.)

森下孝三

Kōzō Morishita

プロデューサー

Producer

野﨑 理

(フジテレビ)

Osamu Nozaki

(Fuji TV)

佐川直子

(読売広告社)

Naoko Sagawa

(Yomiko Advertising, Inc.)

木戸 睦

Atsushi Kido

音楽

Music

住友紀人

Norihito Sumitomo

オープニングテーマ

Opening Theme

作詞

Lyrics

作曲

Composition

唄

Vocals

「超絶☆ダイナミック!」

"Chōzetsu ☆ Dynamic!"

森 雪之丞

Yukinojō Mori

吉井和哉

Kazuya Yoshii

吉井和哉

Kazuya Yoshii

(日本コロムビア/トライアド)

(Nippon Columbia / Triad)

製作担当

Production Manager

末竹 憲

Ken Suetake

美術デザイン

Art Design

行 信三

Shinzō Yuki

色彩設計

Color Design

堀田哲平

Teppei Hotta

キャラクターデザイン・作画監修

Character Design & Supervising
Director of Animation

山室直儀

Tadayoshi Yamamuro


シリーズディレクター

Series Director

地岡公俊

Kimitoshi Chioka

制作協力

Production Coordination

東映

Toei

制作

Production

フジテレビ

Fuji TV

読売広告社

Yomiko Advertising, Inc.

東映アニメーション

Toei Animation
Ending Credits
脚本

Script

小山 真

Makoto Koyama

声の出演

Voice Performances

~~~~

協力

In Cooperation With

青二プロダクション

Aoni Production

原画

Key Animation

北野幸広

Yukihiro Kitano

山室直儀

Tadayoshi Yamamuro

OFFICE DCI

OFFICE DCI

Toei Phils.

Toei Animation Philippines

OP作画監督

Opening Animation Supervisor

山室直儀

Tadayoshi Yamamuro

OP原画

Opening Key Animation

山室直儀

Tadayoshi Yamamuro

大西 亮

Ryō Ōnishi

動画

In-Between Animation

Toei Phils.

Toei Animation Philippines

武遊

Buyū

彩色

Digital Coloring

Toei Phils.

Toei Animation Philippines

武遊

Buyū

色指定

Color Designation

加藤良高

Yoshitaka Katō

デジタル特殊効果

Digital Special Effects

下川信裕

Nobuhiro Shimokawa

デジタルアーティスト

Digital Artist

牧野 快

Kai Makino

奥村崇之

Takayuki Okumura

背景

Backgrounds

アテネアートスタジオ

Athens Art Studio

斉藤信二

Shinji Saito

木下千春

Chiharu Kinoshita

山本真生

Mao Yamamoto

大谷正信

Masanobu Ōtani

赤保谷則子

Noriko Akahoya

勝又アイ子

Aiko Katsumata

デジタル撮影

Digital Photography

AMGA

AMGA

競 昌則

Masanori Kisoi

服部 安

Yasushi Hattori

平井智朗

Tomoaki Hirai

姜 亜偉

Ai Kyō

岡田由紀

Yuki Okada

西 重成

Shigenari Nishi

杉浦仙一

Sen'ichi Sugiura

茂木邦夫

Kunio Mogi

 

エンディングテーマ

Ending Theme

作詞

Lyrics

作曲

Composition

編曲

Arrangement

唄

Vocals

「スターリングスター」

"Starring Star"

首藤義勝

Yoshikatsu Shutō

首藤義勝

Yoshikatsu Shutō

KEYTALK & NARASAKI

KEYTALK & NARASAKI

KEYTALK

KEYTALK

(ビクターエンタテインメント)

(Victor Entertainment)

音響監督

Audio Director

本田保則

Yasunori Honda

編集

Editing

西村英一

Ei'ichi Nishimura

録音

Recording

伊東光晴

Mitsuharu Itō

録音助手

Recording Assistance

新垣未希

Miki Aragaki

音響効果

Sound Effects

西村睦弘

(フィズサウンド)

Mutsuhiro Nishimura

(Fizz Sound)

記録

Documentation

沢井尚子

Shōko Sawai

アシスタントプロデューサー

Assistant Producer

出樋昌稔

(フジテレビ)

Masatoshi Dasuze

(Fuji TV)

静 美保

(読売広告社)

Miho Shizuka

(Yomiko Advertising, Inc.)

音響製作

Audio Production

タバック

TAVAC

録音スタジオ

Recording Studio

サウンドイン

Sound Inn

東映デジタルセンター

Toei Digital Center

オンライン編集

Online Editing

東映デジタルラボ

Toei Digital Lab

音楽協力

Music In Association With

東映アニメーション音楽出版

Toei Animation Music Publishing

フジパシフィックミュージック

FUJIPACIFIC MUSIC

企画協力

Planning In Cooperation With

集英社「Vジャンプ」編集部

Shueisha's "V-Jump" Editorial Department

演出助手

Assistant Director

石谷 恵

Megumi Ishitani

製作進行

Assistant Production Manager

福田一夫

Kazuo Fukuda

美術進行

Art Manager

西牧正人

Masato Nishimaki

仕上進行

Finishing Manager

河本隆弘

Takahiro Kawamoto

CG進行

CG Manager

渡辺克博

Katsuhiro Watanabe

演技事務

Talent Coordination

角 康昭

Yasuaki Tsuno

広報

Public Relations

山本麻未子

(フジテレビ)

Mamiko Yamamoto

(Fuji TV)

美術

Art Director

杦浦正一郎

Sei'ichiro Sugiura

斉藤信二

Shinji Saito

総作画監督

Chief Animation Supervisor

井手武生

Takeo Ide

作画監督

Animation Supervisor

北野幸広

Yukihiro Kitano

演出

Director

羽多野浩平

Kōhei Hatano