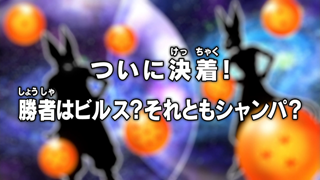 ついに決着!勝者はビルス?それともシャンパ?
Tsui ni Ketchaku! Shōsha wa Birusu? Soretomo Shanpa?
The Conclusion At Last! Who Will Prevail? Beerus, or Champa?
Episode Information
Episode Summary
Goku's Kamehameha cracks open the protective barrier surrounding the arena, threatening to suck the audience members out into space. Thankfully, Whis and Vados use their powers to re-seal the dome, restoring order. As things settle down, Beerus and even the referee are unable to locate Goku and Hit. The two turn are standing atop the huge floating portraits of Champa and Beerus. Piccolo wonders if this counts as a double ring-out, but Beerus and Champa explain that since the portraits are above the arena, they are fine. As the referee declares that the match will continue, Hit tells Goku that he dodged his attack by improving upon his Time-Skip technique even further. Hit's growth is all thanks to him encountering an opponent as strong as Goku, and he intends to continue improving. Goku seems to be suffering some aftereffects from the Kaiō-Ken, but still smiles at Hit, who smiles right back at him. Seeing Hit smile freaks out Universe 6's Kaiōshin, and Universe 7's East Kaiōshin jumps in to explain that this is precisely the sort of strange effect Goku has on people (Elder Kaiōshin, who said something similar last episode, yells at East Kaiōshin not to steal all his cool lines).
Hit approaches Goku and the two bump fists, then fly to opposite sides of the arena. As they prepare to recommence fighting, Hit shows off another new pose, which Beerus notes he must have invented to match his improved strength. Goku again feels aftereffects from the Kaiō-Ken, and thinks to himself that this could be bad. On the sidelines, Champa yells to Hit that Goku will not be able to maintain his Kaiō-Ken for much longer, so there is no need for Hit to directly engage him. He just has to play keep-away until Goku's stamina runs out, and he will win for sure! Vados compliments Champa and this strategy, but Cabba is appalled, saying that Hit is far too proud to win with such cheap tactics. Champa tells Cabba to keep quiet; this is a battle between him and Beerus, and everyone else is just a pawn in their game! Hearing themselves referred to as "pawns", Goku and Hit both glare at Champa, who falls back in alarm. Even Vados says she now wishes to see how their match will play out to the end.
Goku tells Hit to show everyone that they are more than just pawns. As they both power up, Goku thinks about how each member of the Universe 6 team has been a tough opponent, and he is happy to be fighting against the strongest one of them all. Vados notes that the dome looks like it is going to break simply from Goku and Hit's ki alone. The two finally rush toward each other, and Hit successfully gets the jump on Goku with his improved Time-Skip, landing a devastating blow. Though it looks like Goku is going to fall to the ground unconscious, he manages to recover and nail Hit with a counterattack that sends him crashing into Champa's portrait. Hit tumbles down onto the arena, but Goku is apparently too worn out to launch another attack. He floats in the air catching his breath for a moment, before dropping down onto the arena himself. The two of them kneel recuperating for a while, as the audience watches on in silence. Finally, they struggle to their feet once more. Goku turns to Beerus and asks that all the match rules be revoked!
Everyone is shocked, but Goku explains that with the match rules in place, Hit is unable to utilize his full power. As an assassin, Hit's true skills lie in his killing techniques, but since the match rules prohibit killing one's opponent, Hit is unable to truly go all-out. Goku says that if Hit had been using such deadly force, Hit might have killed him with that last attack. Goku apologizes to Hit for not realizing this sooner. Hit is amazed at how Goku seems unafraid to die. Champa applauds Goku's sportsmanship and happily agrees to make this change, but Beerus angrily refuses, saying Champa merely wants to change the rules to benefit his own team. The two begin squabbling, and Goku sadly notes that it looks like they will not be finished arguing anytime soon. Hit says that after all they are merely pawns in a game, but Goku responds "for now".
Watching the argument continue, Goku declares Beerus and Champa to be hopeless, and is suddenly struck by an idea. He tells Hit they can fight again some other time, somewhere without such annoying restrictions. With that, Goku calmly walks to the edge of the ring… and jumps off. After confirming that the rules are still in effect, the referee declares his ring-out, and Hit wins the match. Goku flies back into the arena and bows politely to Hit; meanwhile Beerus and Champa have stopped their fight out of sheer shock. Giving Hit one last thumbs up, Goku's Kaiō-Ken aura fades away. Reverting to his normal form, he is seized by muscular convulsions, and collapses to the ground in pain. Piccolo rushes over, saying that Goku has been truly reckless. Hit walks away, saying to himself what a surprising fellow Goku is.
With Goku's loss, the referee announces that the final match of the tournament will now be Monaka versus Hit. Each team is down to a single fighter! Goku manages to get to his seat, saying he will really have to lay off the Kaiō-Ken for a while, and Vegeta calls him an idiot. Beerus is furious at Goku, saying he does not know what he has done. Goku points out that he would not have been able to maintain the Kaiō-Ken for much longer, and would have just have lost at that rate anyway. It is all Beerus' fault for taking so long arguing! Anyway, Goku's not worried, since they still have Monaka, the strongest in Universe 7! Only Beerus, Whis, Piccolo, and Monaka himself know the truth: that Beerus lied about Monaka's great strength in order to motivate Goku and Vegeta. Whis sarcastically assures Beerus that Goku's right, everything will be just fine! Vegeta asks Piccolo why he seems so nervous, but Piccolo keeps his lips sealed. Monaka nervously walks out to the edge of the floating seating area and awkwardly dives down into the ring. Hit and Vegeta can clearly tell something is wrong, but Goku is oblivious, and simply praises Monaka's movements for being so unpredictable.
Beerus moans that the situation is hopeless, and Monaka is sweating heavily as he slowly approaches Hit. Observing Monaka close-up, Hit quickly deduces the true state of affairs. As Champa rings the gong and the match commences, Monaka lands a single, limp punch on Hit's leg. After a long pause, Hit suddenly cries out and flies out of the ring, landing on the ground. For a moment everyone is too shocked to say anything, but then the referee declares Hit has lost by ring-out. Universe 7 has won the tournament! The Universe 7 audience members cheer, while Monaka and Beerus both cannot understand what just happened. Goku is suitably impressed at Monaka's strength, and the Galactic King declares that they need people like that in the Galactic Patrol, but Jaco protests. Goku painfully flies over and thanks his friends and family for cheering him on, and the Galactic King congratulates him on a nice fight. Goku thanks the king for explaining to him about the Time-Skip technique, shaking one of the king's tentacles in gratitude. Seeing this, Jaco shrieks and the king shyly explains that this tentacle is actually his penis. Hit gets back up and flies off, saying "now we're even".
Returning to the Universe 6 contestant seating area, Hit tells Champa that he no longer wants the cube, and asks to be taken back home. Champa says Hit must be joking: Hit repeatedly disobeyed his orders, and immediately lost the final match. There is no way he is going home alive now! Hit anticipated this, and braces himself to fight Champa. Cabba protests, but Champa shouts him down: the entire team has brought shame to him, and must now pay the price. Goku tries to intervene as well, but Beerus stops him. The matches are over now, and the Gods of Destruction can dispose of their contestants as they see fit. As Champa says, they make the rules, and others must obey! Champa brags that not even Time-Skip or Super Saiyan are any match for him. He will show them just how scary a God of Destruction can be! As Champa rants on like this, Vados suddenly notices something, and brings Champa's attention to it. Champa and Beerus both scream when they see three strange figures down in the ring: a small being flanked by two tall, skinny ones. Goku asks who it is, but Beerus can hardly believe his eyes. It's the Omni-King!










Next Time:


"Come Forth, Dragon of the Gods — Grant My Wish, Pretty Peas!"
Episode Notes
Similar to the majority of the godly figures in Dragon Ball, such as the Kaiō ("King of Worlds") and Kaiōshin ("God of the King of Worlds"), Zen'ō (全王) is actually a title, meaning "King of All", "King of Everything", or simply "Omni-King". The Omni-King's clothing features the character for "everything" or "all" (全 zen), appearing both right-side up and vertically mirrored.
Episode Credits
All credits listed below are as originally presented in the episode. The credit structure used in Dragon Ball Super is actually quite simple; the staff involved with the production of the series as a whole are listed in the opening credits and the staff involved with this specific episode are listed in the ending credits. All original credit errors have been corrected to maintain accurate spellings throughout the site. For more information and a complete listing of the series staff, visit the Production Guide.
Cast Credits
孫悟空

Son Goku

孫悟天

Son Goten

野沢雅子

Masako Nozawa

 

ブルマ

Bulma

鶴 ひろみ

Hiromi Tsuru

ベジータ

Vegeta

堀川りょう

Ryō Horikawa

クリリン

Kuririn

田中真弓

Mayumi Tanaka

ピッコロ

Piccolo

古川登志夫

Toshio Furukawa

チチ

Chi-Chi

渡辺菜生子

Naoko Watanabe

ウーロン

Oolong

龍田直樹

Naoki Tatsuta

シン

Shin

太田真一郎

Shin'ichirō Ōta

老界王神

Elder Kaiōshin

田中亮一

Ryōichi Tanaka

ジャコ

Jaco

花江夏樹

Natsuki Hanae

ビルス

Beerus

山寺宏一

Kōichi Yamadera

ウイス

Whis

森田成一

Masakazu Morita

シャンパ

Champa

岩田光央

Mitsuo Iwata

ヴァドス

Vados

山口由里子

Yuriko Yamaguchi

ヒット

Hit

山路和弘

Kazuhiro Yamaji

キャベ

Cabba

岸尾だいすけ

Daisuke Kishio

モナカ

Monaka

菊池正美

Masami Kikuchi

レフェリー

Referee

田中一成

Kazunari Tanaka

銀河王

Galactic King

魚 建

Ken Uo

第6宇宙の界王神

Universe 6 Kaiōshin

増谷康紀

Yasunori Masutani
Opening Credits
原作・ストーリー原案・キャラクター原案

Original Author / Story Draft / Character Drafts

鳥山 明

(集英社「ジャンプコミックス」刊)

Akira Toriyama

(Published in Shueisha's "Jump Comics")

企画

Planning

情野誠人

(フジテレビ)

Masato Seino

(Fuji TV)

渡辺和哉

(読売広告社)

Kazuya Watanabe

(Yomiko Advertising, Inc.)

森下孝三

Kōzō Morishita

プロデューサー

Producer

野﨑 理

(フジテレビ)

Osamu Nozaki

(Fuji TV)

佐川直子

(読売広告社)

Naoko Sagawa

(Yomiko Advertising, Inc.)

木戸 睦

Atsushi Kido

寺本知資

Tomosuke Teramoto

高見 暁

Satoru Takami

音楽

Music

住友紀人

Norihito Sumitomo

オープニングテーマ

Opening Theme

作詞

Lyrics

作曲

Composition

唄

Vocals

「超絶☆ダイナミック!」

"Chōzetsu ☆ Dynamic!"

森 雪之丞

Yukinojō Mori

吉井和哉

Kazuya Yoshii

吉井和哉

Kazuya Yoshii

(日本コロムビア/トライアド)

(Nippon Columbia / Triad)

製作担当

Production Manager

末竹 憲

Ken Suetake

美術デザイン

Art Design

行 信三

Shinzō Yuki

色彩設計

Color Design

堀田哲平

Teppei Hotta

キャラクターデザイン・作画監修

Character Design & Supervising
Director of Animation

山室直儀

Tadayoshi Yamamuro


シリーズディレクター

Series Director

畑野森生

Morio Hatano

地岡公俊

Kimitoshi Chioka

制作協力

Production Coordination

東映

Toei

制作

Production

フジテレビ

Fuji TV

読売広告社

Yomiko Advertising, Inc.

東映アニメーション

Toei Animation
Ending Credits
脚本

Script

キング・リュウ

King Ryū

声の出演

Voice Performances

~~~~

協力

In Cooperation With

青二プロダクション

Aoni Production

原画

Key Animation

八島善孝

Yoshitaka Yashima

涂 泳策

Yong-ce Tu

月乃むあ

Mua Tsukino

石井珠樹

Tamaki Ishii

Toei Phils.

Toei Animation Philippines

横山美雪

Miyuki Yokoyama

佐藤友子

Tomoko Satō

村 俊太郎

Shuntarō Mura

 

動画

In-Between Animation

Toei Phils.

Toei Animation Philippines

武遊

Buyū

彩色

Digital Coloring

Toei Phils.

Toei Animation Philippines

武遊

Buyū

色指定

Color Designation

加藤良高

Yoshitaka Katō

デジタル特殊効果

Digital Special Effects

下川信裕

Nobuhiro Shimokawa

デジタルアーティスト

Digital Artist

川崎健太郎

Kentarō Kawasaki

松本八希

Hakki Matsumoto

背景

Backgrounds

アテネアートスタジオ

Athens Art Studio

斉藤信二

Shinji Saito

木下千春

Chiharu Kinoshita

山本真生

Mao Yamamoto

大谷正信

Masanobu Ōtani

赤保谷則子

Noriko Akahoya

勝又アイ子

Aiko Katsumata

デジタル撮影

Digital Photography

AMGA

AMGA

競 昌則

Masanori Kisoi

服部 安

Yasushi Hattori

平井智朗

Tomoaki Hirai

岡田由紀

Yuki Okada

西 重成

Shigenari Nishi

杉浦仙一

Sen'ichi Sugiura

姜 亜偉

Ai Kyō

エンディングテーマ

Ending Theme

作詞

Lyrics

作曲

Composition

編曲

Arrangement

唄

Vocals

「Forever Dreaming」

"Forever Dreaming"

武井優心

Masmi Takei

武井優心

Masmi Takei

Czecho No Republic

Czecho No Republic

Czecho No Republic

Czecho No Republic

(日本コロムビア/トライアド)

(Nippon Columbia / Triad)

音響監督

Audio Director

本田保則

Yasunori Honda

編集

Editing

西村英一

Ei'ichi Nishimura

録音

Recording

伊東光晴

Mitsuharu Itō

録音助手

Recording Assistance

新垣未希

Miki Aragaki

音響効果

Sound Effects

西村睦弘

(JetSoundEngine)

Mutsuhiro Nishimura

(JetSoundEngine)

記録

Documentation

沢井尚子

Shōko Sawai

アシスタントプロデューサー

Assistant Producer

静 美保

(読売広告社)

Miho Shizuka

(Yomiko Advertising, Inc.)

石川 啓

Kei Ishikawa

音響製作

Audio Production

タバック

TAVAC

録音スタジオ

Recording Studio

サウンドイン

Sound Inn

東映デジタルセンター

Toei Digital Center

オンライン編集

Online Editing

東映デジタルラボ

Toei Digital Lab

菅野祥代

Sachiyo Kan'no

音楽協力

Music In Association With

東映アニメーション音楽出版

Toei Animation Music Publishing

フジパシフィックミュージック

FUJIPACIFIC MUSIC

企画協力

Planning In Cooperation With

集英社「Vジャンプ」編集部

Shueisha's "V-Jump" Editorial Department

演出助手

Assistant Director

佐藤雅教

Masanori Satō

製作進行

Assistant Production Manager

難波 涼

Ryō Nanba

美術進行

Art Manager

西牧正人

Masato Nishimaki

仕上進行

Finishing Manager

河本隆弘

Takahiro Kawamoto

CG進行

CG Manager

渡辺克博

Katsuhiro Watanabe

演技事務

Talent Coordination

角 康昭

Yasuaki Tsuno

広報

Public Relations

清田美智子

(フジテレビ)

Michiko Kiyota

(Fuji TV)

美術

Art Director

杦浦正一郎

Sei'ichiro Sugiura

斉藤信二

Shinji Saito

総作画監督

Chief Animation Supervisor

辻 美也子

Miyako Tsuji

作画監督

Animation Supervisor

八島善孝

Yoshitaka Yashima

演出

Director

佐藤雅教

Masanori Satō