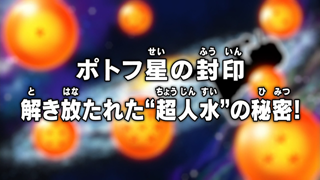 ポトフ星の封印 解き放たれた"超人水"の秘密!
Potofu-sei no Fūin Tokihanatareta "Chōjin Sui" no Himitsu!
The Seal of Planet Potaufeu — Secret of the Unleashed "Superhuman Water"!
Episode Information
Episode Summary
On a far off world, a strange panda-like man is practicing kung-fu when a group of aliens arrive. "So, you've come at last."
On Earth, Monaka's delivery spaceship arrives at Capsule Corporation. It turns out Bulma has ordered more of the space sweets Jaco brought to the victory party. She thanks Monaka, and asks if he could help her out with her latest experiment since no one else is around. Monaka is hesitant, saying he still needs to make a delivery to Planet Potaufeu, but Bulma assures him this will not take long. While Monaka is inside helping with Bulma's incomprehensible experiment, Trunks and Goten return from an outing and spot Monaka's ship. Seeing that Monaka is not around and has even left the cargo hold open, the two go inside and check out the packages Monaka is delivering.
Trunks' eyes immediately go to a sword, while Goten messes around with a doll that quickly inflates to an enormous size. Trunks uses his sword to deflate the doll, but in the confusion the cargo hold door closes. Trunks considers simply smashing their way out, but figures it would not be good of them to break Monaka's ship, so the two decide to wait it out. Unfortunately, when Monaka does return, he immediately takes off into space without even checking the cargo hold. Goten and Trunks yell for help, but he cannot hear them from the driver's seat.
Flying through space, Monaka listens to a radio DJ announcing the start of the 13th Galactic Pants Conference, where the galaxy's various pant makers will attempt to create a unified galactic system of pants sizes. Next up, the DJ reads a letter from a listener whose pen name is "Grand Ponta", a space deliveryman who says how excited he gets when a package is labeled "Fragile: Handle with Care". Meanwhile in the cargo hold, Trunks and Goten are getting kind of cold…
Monaka finally arrives on Planet Potaufeu, and discovers the frozen boys in the cargo hold. As he helps them warm up again, he explains where they are, though Trunks has never heard of the planet before. The panda-like alien from before appears. It turns out he is an old friend of Monaka's named Potage, and Monaka has come to deliver him his copy of Space Martial Arts Monthly. While the two are getting caught up, the purple aliens from before appear, clearly looking for a fight.
Potage squares off against them, but while he is able to strike an impressive-looking fighting pose, he quickly proves no match. During the battle, the odd pacifier-like object Potage wears on a string around his neck falls on the ground, but he does not realize this at the time. Goten and Trunks step in and fend off the attackers, but as they retreat, their leader notices the pacifier lying on the ground.
Potage thanks them, and explains that those aliens were evildoers who had come to steal the planet's "dormant power", which it is his duty to protect. He reaches for the pacifier hanging from his neck, discovering at last it is no longer there. Panicked, he asks the others to help him find it again. Monaka passed out while watching the fight, so they leave him behind. Looking around, they fail to find the pacifier, at which point the lead evildoer and his men appear and reveal that they have it. Even worse, they have taken Monaka hostage!
Trunks and co. allow themselves to be tied up. It turns out that the "planet's dormant power" which the evildoers are after is the so-called "Superhuman Water", said to multiply one's power hundreds of times. The pacifier is the key to unsealing this water, which lies inside some nearby ruins. However, Potage claims that the Superhuman Water does not actually exist, and that they will simply be "swallowed up" if they undo the seal. Unmoved, the evildoers use the pacifier to unlock the seal… but scream at what they find inside.
Back on Earth, Bulma has discovered via Capsule Corporation's security cameras that Trunks and Goten went off in Monaka's ship, and asks Jaco to go bring them back. Remembering how Monaka mentioned he still had a delivery to make to Planet Potaufeu, she figures that they must be there. However, Jaco says that Potaufeu should be uninhabited, and besides, he is much too busy to bother with this right now. He is on the trail of the villainous Gryll from Planet Sauté, a wanted criminal. Jaco holds up a picture the villainous Sautéan Gryll, who is clearly the leader of the gang attacking Planet Potaufeu.
Bulma blackmails Jaco into helping her by threatening to reveal how Jaco defaced a photo of the Galactic King, something that could get him fired. She also insists Vegeta go, and the two take off. Bulma next calls Chi-Chi to inform her of the situation, and Chi-Chi regrets that Goku is off training with Kaiō at a time like this. On Kaiō's planet we see that Goku is indeed training hard; in fact, he says his power is back to normal. Kaiō says that since Goku's ki disorder is healed, he should go train at Beerus' place rather than here, but Goku says that Whis has apparently gone off somewhere, leaving him unable to travel to Beerus'.
On Planet Potaufeu, Trunks and the others are fleeing from Gryll and his men. Vegeta and Jaco arrive in the nick of time. Jaco recognizes Gryll, while Vegeta makes short work of Gryll's henchmen, who strangely dissolve into a purple liquid. Vegeta prepares to face off against Gryll himself, but the liquid mass the henchmen have become engulfs him, then spits him back out. Vegeta realizes that he has lost his power, while the liquid mass reforms into a copy of Vegeta…










Next Time:


"Vegeta Disappears?! The Menace of Copy-Vegeta!"
Episode Notes
The voice of Copy-Vegeta is provided by Masakazu Morita, who also provided the voice of Vegeta's younger brother, Tarble.
Planet Potaufeu's name (ポトフ星; potofu-sei) is taken directly from "pot-au-feu", a French beef stew.

ポトフ (po·to·fu)

Potage shares his name with a type of French soup.

ポタージュ (po·ta·a·ju)

The Sautéans (ソテー人) get their name directly from the French sauté, a method of cooking food.

ソテー (so·te·e)

Gryll's name (グリール) is likely taken from the word "grill". Jaco even refers to him as the Sautéan Gryll, a clear pun on "sauté grill".

グリル (gu·ri·ru) › グリール (gu·ri·i·ru)
Episode Credits
All credits listed below are as originally presented in the episode. The credit structure used in Dragon Ball Super is actually quite simple; the staff involved with the production of the series as a whole are listed in the opening credits and the staff involved with this specific episode are listed in the ending credits. All original credit errors have been corrected to maintain accurate spellings throughout the site. For more information and a complete listing of the series staff, visit the Production Guide.
Cast Credits
孫悟空

Son Goku

孫悟天

Son Goten

野沢雅子

Masako Nozawa

 

ブルマ

Bulma

鶴 ひろみ

Hiromi Tsuru

ベジータ

Vegeta

堀川りょう

Ryō Horikawa

トランクス

Trunks

草尾 毅

Takeshi Kusao

チチ

Chi-Chi

渡辺菜生子

Naoko Watanabe

界王

Kaiō

龍田直樹

Naoki Tatsuta

ジャコ

Jaco

花江夏樹

Natsuki Hanae

モナカ

Monaka

菊池正美

Masami Kikuchi

ポタージュ

Potage

斎藤志郎

Shirō Saitō

グリール

Gryll

斉藤次郎

Jirō Saitō

DJ

DJ

佐藤アサト

Asato Satō

複製ベジータ

Copy-Vegeta

森田成一

Masakazu Morita

複製グリール

Copy-Gryll

福原耕平

Kōhei Fukuhara

複製ソテー人

Copy-Sautéans

根本幸多

Kōta Nemoto

五味洸一

Kōichi Gomi

平井啓二

Keiji Hirai

千葉俊哉

Toshiya Chiba
Opening Credits
原作・ストーリー原案・キャラクター原案

Original Author / Story Draft / Character Drafts

鳥山 明

(集英社「ジャンプコミックス」刊)

Akira Toriyama

(Published in Shueisha's "Jump Comics")

企画

Planning

情野誠人

(フジテレビ)

Masato Seino

(Fuji TV)

渡辺和哉

(読売広告社)

Kazuya Watanabe

(Yomiko Advertising, Inc.)

森下孝三

Kōzō Morishita

プロデューサー

Producer

野﨑 理

(フジテレビ)

Osamu Nozaki

(Fuji TV)

佐川直子

(読売広告社)

Naoko Sagawa

(Yomiko Advertising, Inc.)

木戸 睦

Atsushi Kido

寺本知資

Tomosuke Teramoto

高見 暁

Satoru Takami

音楽

Music

住友紀人

Norihito Sumitomo

オープニングテーマ

Opening Theme

作詞

Lyrics

作曲

Composition

唄

Vocals

「超絶☆ダイナミック!」

"Chōzetsu ☆ Dynamic!"

森 雪之丞

Yukinojō Mori

吉井和哉

Kazuya Yoshii

吉井和哉

Kazuya Yoshii

(日本コロムビア/トライアド)

(Nippon Columbia / Triad)

製作担当

Production Manager

末竹 憲

Ken Suetake

美術デザイン

Art Design

行 信三

Shinzō Yuki

色彩設計

Color Design

堀田哲平

Teppei Hotta

キャラクターデザイン・作画監修

Character Design & Supervising
Director of Animation

山室直儀

Tadayoshi Yamamuro


シリーズディレクター

Series Director

畑野森生

Morio Hatano

地岡公俊

Kimitoshi Chioka

制作協力

Production Coordination

東映

Toei

制作

Production

フジテレビ

Fuji TV

読売広告社

Yomiko Advertising, Inc.

東映アニメーション

Toei Animation
Ending Credits
脚本

Script

福嶋幸典

Yoshifumi Fukushima

声の出演

Voice Performances

~~~~

協力

In Cooperation With

青二プロダクション

Aoni Production

原画

Key Animation

唐澤雄一

Yūichi Katsusawa

木村美香

Mika Kimura

松尾俊輔

Shunsuke Matsuo

涂 泳策

Yong-ce Tu

安田陽子

Yōko Yasuda

深澤謙二

Kenji Fukazawa

千葉靖子

Yasuko Chiba

次橋有紀

Yuki Tsugihashi

山内亜紀

Aki Yamauchi

有坪孝晃

Taka'aki Aritsubo

松木泰憲

Yasunori Matsuki

早瀬真紀子

Makiko Hayase

阪本望実

Nozomi Sakamoto

梶原悠里

Yūri Kajiwara

馬場可奈子

Kanako Baba

島 亜里沙

Arisa Shima

高木啓明

Hiroaki Takagi

山田佳奈莉

Kanari Yamada

岩井志菜

Yukina Iwai

槌谷凌雲

Ryōun Tsuchiya

橋本コウヘイ

Kōhei Hashimoto

阿部和彦

Kazuhiko Abe

丸山匡彦

Masahiko Maruyama

藤原 舞

Mai Fujiwara

会津五月

Satsuki Aizu

松田千織

Chiori Matsuda

菅野利香

Rika Kan'no

針木 大

Hiroshi Hariki

池田広明

Hiroaki Ikeda

杉浦圭一

Kei'ichi Sugiura

船越麻友美

Mayumi Funakoshi

今田 茜

Akane Imada

室山祥子

Shōko Muroyama

野中美希

Miki Nonaka

川崎沙瑛

Sae Kawasaki

大西麻衣子

Maiko Ōnishi

野崎彩加

Ayaka Nozaki

松井京介

Kyōsuke Matsui

山本貴則

Takanori Yamamoto

近田 忍

Shinobi Chikada

中保由貴乃

Yukino Nakaho

藤原健太郎

Kentarō Fujihara

作画監督補佐

Assistant Animation Supervisor

田中千皓

Chihiro Tanaka

動画

In-Between Animation

Toei Phils.

Toei Animation Philippines

A-LINE

A-LINE

武遊

Buyū

スタジオcj

Studio cj

彩色

Digital Coloring

Toei Phils.

Toei Animation Philippines

A-LINE

A-LINE

武遊

Buyū

スタジオcj

Studio cj

色指定

Color Designation

加藤良高

Yoshitaka Katō

デジタル特殊効果

Digital Special Effects

下川信裕

Nobuhiro Shimokawa

デジタルアーティスト

Digital Artist

川崎健太郎

Kentarō Kawasaki

背景

Backgrounds

アテネアートスタジオ

Athens Art Studio

斉藤信二

Shinji Saito

木下千春

Chiharu Kinoshita

山本真生

Mao Yamamoto

大谷正信

Masanobu Ōtani

赤保谷則子

Noriko Akahoya

勝又アイ子

Aiko Katsumata

デジタル撮影

Digital Photography

AMGA

AMGA

競 昌則

Masanori Kisoi

服部 安

Yasushi Hattori

平井智朗

Tomoaki Hirai

岡田由紀

Yuki Okada

西 重成

Shigenari Nishi

杉浦仙一

Sen'ichi Sugiura

姜 亜偉

Ai Kyō

エンディングテーマ

Ending Theme

作詞

Lyrics

作曲

Composition

編曲

Arrangement

唄

Vocals

「Forever Dreaming」

"Forever Dreaming"

武井優心

Masmi Takei

武井優心

Masmi Takei

Czecho No Republic

Czecho No Republic

Czecho No Republic

Czecho No Republic

(日本コロムビア/トライアド)

(Nippon Columbia / Triad)

音響監督

Audio Director

本田保則

Yasunori Honda

編集

Editing

西村英一

Ei'ichi Nishimura

録音

Recording

伊東光晴

Mitsuharu Itō

録音助手

Recording Assistance

新垣未希

Miki Aragaki

音響効果

Sound Effects

西村睦弘

(JetSoundEngine)

Mutsuhiro Nishimura

(JetSoundEngine)

記録

Documentation

沢井尚子

Shōko Sawai

アシスタントプロデューサー

Assistant Producer

静 美保

(読売広告社)

Miho Shizuka

(Yomiko Advertising, Inc.)

石川 啓

Kei Ishikawa

音響製作

Audio Production

タバック

TAVAC

録音スタジオ

Recording Studio

サウンドイン

Sound Inn

東映デジタルセンター

Toei Digital Center

オンライン編集

Online Editing

東映デジタルラボ

Toei Digital Lab

福田明生

Akio Fukuda

音楽協力

Music In Association With

東映アニメーション音楽出版

Toei Animation Music Publishing

フジパシフィックミュージック

FUJIPACIFIC MUSIC

企画協力

Planning In Cooperation With

集英社「Vジャンプ」編集部

Shueisha's "V-Jump" Editorial Department

演出助手

Assistant Director

唐澤和也

Kazuya Karasawa

製作進行

Assistant Production Manager

澤守 洸

Takeshi Sawamori

美術進行

Art Manager

西牧正人

Masato Nishimaki

仕上進行

Finishing Manager

河本隆弘

Takahiro Kawamoto

CG進行

CG Manager

渡辺克博

Katsuhiro Watanabe

演技事務

Talent Coordination

角 康昭

Yasuaki Tsuno

協力プロダクション

A Cooperative Production With

ダンガン・ピクチャーズ

Dangun Pictures

広報

Public Relations

清田美智子

(フジテレビ)

Michiko Kiyota

(Fuji TV)

美術

Art Director

杦浦正一郎

Sei'ichiro Sugiura

斉藤信二

Shinji Saito

総作画監督

Chief Animation Supervisor

辻 美也子

Miyako Tsuji

作画監督

Animation Supervisor

唐澤雄一

Yūichi Karasawa

木下由衣

Yui Kinoshita

楠木智子

Tomoko Kusunoki

演出

Director

唐澤和也

Kazuya Karasawa