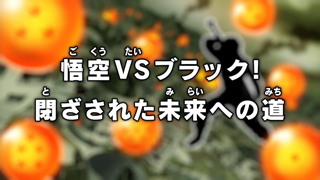 悟空VSブラック!閉ざされた未来への道
Gokū Tai Burakku! Tozasareta Mirai e no Michi
Goku vs Black! The Path to the Sealed Future
Episode Information
Episode Summary
Goku Black has arrived in the present through a strange portal. He realizes that Trunks had traveled through time to this point, and then greets Goku, while noting the presence of Vegeta and even the God of Destruction Beerus. Meanwhile, Beerus and Whis' attention is drawn to the strange ring Black wears on his right hand. Trunks demands to know how Black got here, and Black explains that he followed the path Trunks took through time and space. Black mockingly asks if Trunks had called for him wanting to die by his hands. Vegeta warns Trunks against fighting Black, as he is no match, but before Vegeta himself can challenge Black, Goku flies up to fight him. Goku has heard all about how strong Black is, and wants to see for himself!
Black likewise says this is an "honor", as he had wanted to try fighting Goku in "this body". Goku wonders what he means by that, but Black says he does not need to know. On the sidelines, Kuririn wonders who this Black is, and Bulma explains that he is her murderer! This naturally leaves Kuririn even more confused than before. Goku, still in his base form, trades blows with Black for a little while before finally becoming a Super Saiyan. Black is thrilled to see such power, and Goku can tell that Black is like him: they both get excited to fight against strong opponents. At this point, Black's ki rises, and he tells Goku to show him more of his power.
The fight continues, and on the sidelines Kuririn notes that Black's power keeps on rising. Trunks wonders why Goku is not using the same power as he did earlier in their sparring match. Vegeta explains that Goku has a bad habit of not fighting seriously at the start. In the battle itself, Goku and Black likewise both note that neither of them are using their full power. Elsewhere, Beerus and Whis say this Black is not half bad, but find it odd that his ki does not quite feel the same as Goku's.
At this point, Goku decides he needs to fight hard enough to force Black to use his full power. The fight recommences and Black takes a beating, but oddly he still seems happy about this, declaring that this pain will make him even stronger. Kuririn notes that Black's power has risen yet again, and as Goku and Black go at it some more, Trunks' time machine is knocked over from the impact. Black notices the device, and hearing Trunks refer to it as a time machine, he realizes this is how Trunks traveled through time.
Seizing the opportunity, Black blows up the time machine, but shortly thereafter gets pulled back through the portal he came from. The portal closes, and Black is gone, but the time machine is in flames. Whis explains that Black most likely did not vanish on his own. Rather, Black was able to come to this era when the power of his "Time Ring" reacted to the distortions in time created by Trunks' time machine's passage through time and space. However, these distortions try and return to their original state, similar to the way a wound heals, and so as a result Black's Time Ring forcibly pulled him back to the era he came from. In other words, Whis says, he basically just ran out of time here in the present.
Black has indeed returned to Trunks' future world. Lying on the ground in some degree of fatigue and pain, Black says that Super Saiyan Goku's fighting style has been "engraved" into his body, which will make his strength even more perfect. Though Black thinks he will not be able to return to that era (i.e. the present) again, Trunks likewise is stuck there now that his time machine is no more, meaning that in the future world none remain to oppose him.
Back in the present, Trunks is having the same thoughts: now that he is stuck here, there is nobody in the future world to stop Black from wiping out the remaining Earthlings. Vegeta asks Trunks how Black's power just now compares to when he fought Black on prior occasions, and Trunks says that Black was "a little stronger" when he fought him in the future. A little, not a lot… probably. In that case, Vegeta thinks they have got nothing to worry about, since Goku was not even using anywhere near his full power. Trunks wonders why Goku and Vegeta are both so much more powerful than before, but they say it is a long story. Still, Black's ki was also constantly rising as he fought Goku, so who knows what his limits are.
The Pilaf Gang steps in to extinguish the time machine's flames (hoping that they can get food in return). With the flames out, the time machine is now nothing but a burnt-out husk. Bulma laments that even with her future self's notes, she cannot rebuild the machine from scratch all on her own. Suddenly though, she has an idea and rushes off inside to find something. For his part, Beerus seems pleased that with the time machine gone humans can now no longer mess around with time, but Whis thinks they have another problem to worry about now: Black's "Time Ring" is something which only Kaiōshins are permitted to use. However, Black is quite certainly not a Kaiōshin. Regardless, Time Rings can only take you to the future, and then back to the present, since even among the gods it is strictly forbidden to travel into the past.
Trunks asks Beerus and Whis to give him one of these Time Rings, but since Beerus is a God of Destruction (rather than a Kaiōshin), he does not have any. Trunks is still worried about what will happen to future Earth if he does not get back there, but Beerus stresses once again that people should not mess around with time; both Trunks and Black are troublesome in that regard. Whis thinks that Black most likely cannot travel through time at will, and so probably will not be back. Which means that if they want to defeat Black, they will have to go to the future. Kuririn asks if Whis can use his own time-manipulating powers to take them there, but Whis explains that his powers only allow him to rewind time a maximum of three minutes, and do not extend to traveling into the future.
Trunks is despondent, since everyone in the future was depending on him. However, Vegeta tells him not to give up; there is definitely a way to solve this! Beerus says that humans are always so quick to say "don't give up", but frankly sometimes there is nothing that can be done; giving up is important too! Bulma finally returns, having found what she was looking for. Bulma holds up a capsule, which she throws to reveal… the battered old time machine Cell arrived in! They have another time machine after all!










Next Time:


"Feelings That Transcend Time — Trunks and Mai"
Episode Credits
All credits listed below are as originally presented in the episode. The credit structure used in Dragon Ball Super is actually quite simple; the staff involved with the production of the series as a whole are listed in the opening credits and the staff involved with this specific episode are listed in the ending credits. All original credit errors have been corrected to maintain accurate spellings throughout the site. For more information and a complete listing of the series staff, visit the Production Guide.
Cast Credits
孫悟空

Son Goku

ゴクウブラック

Goku Black

野沢雅子

Masako Nozawa

 

ブルマ

Bulma

鶴 ひろみ

Hiromi Tsuru

ベジータ

Vegeta

堀川りょう

Ryō Horikawa

クリリン

Kuririn

田中真弓

Mayumi Tanaka

ピッコロ

Piccolo

古川登志夫

Toshio Furukawa

トランクス

Trunks

草尾 毅

Takeshi Kusao

ピラフ

Pilaf

千葉 繁

Shigeru Chiba

マイ

Mai

山田栄子

Eiko Yamada

シュウ

Shuu

玄田哲章

Tesshō Genda

ビルス

Beerus

山寺宏一

Kōichi Yamadera

ウイス

Whis

森田成一

Masakazu Morita

ナレーション

Narration

龍田直樹

Naoki Tatsuta
Opening Credits
原作・ストーリー原案・キャラクター原案

Original Author / Story Draft / Character Drafts

鳥山 明

(集英社「ジャンプコミックス」刊)

Akira Toriyama

(Published in Shueisha's "Jump Comics")

企画

Planning

情野誠人

(フジテレビ)

Masato Seino

(Fuji TV)

渡辺和哉

(読売広告社)

Kazuya Watanabe

(Yomiko Advertising, Inc.)

森下孝三

Kōzō Morishita

プロデューサー

Producer

野﨑 理

(フジテレビ)

Osamu Nozaki

(Fuji TV)

橋爪駿輝

(フジテレビ)

Shunki Hashizume

(Fuji TV)

佐川直子

(読売広告社)

Naoko Sagawa

(Yomiko Advertising, Inc.)

木戸 睦

Atsushi Kido

高見 暁

Satoru Takami

音楽

Music

住友紀人

Norihito Sumitomo

オープニングテーマ

Opening Theme

作詞

Lyrics

作曲

Composition

唄

Vocals

「超絶☆ダイナミック!」

"Chōzetsu ☆ Dynamic!"

森 雪之丞

Yukinojō Mori

吉井和哉

Kazuya Yoshii

吉井和哉

Kazuya Yoshii

(日本コロムビア/トライアド)

(Nippon Columbia / Triad)

製作担当

Production Manager

末竹 憲

Ken Suetake

美術デザイン

Art Design

行 信三

Shinzō Yuki

色彩設計

Color Design

加藤良高

Yoshitaka Katō

キャラクターデザイン・作画監修

Character Design & Supervising
Director of Animation

山室直儀

Tadayoshi Yamamuro


シリーズディレクター

Series Director

畑野森生

Morio Hatano

制作協力

Production Coordination

東映

Toei

制作

Production

フジテレビ

Fuji TV

読売広告社

Yomiko Advertising, Inc.

東映アニメーション

Toei Animation
Ending Credits
脚本

Script

冨岡淳広

Atsuhiro Tomioka

声の出演

Voice Performances

~~~~

協力

In Cooperation With

青二プロダクション

Aoni Production

原画

Key Animation

星野 守

Mamoru Hoshino

唐澤雄一

Yūichi Katsusawa

洪 範錫

Beom-seok Hong

深澤謙二

Kenji Fukazawa

菅野利香

Rika Kan'no

鈴木 大

Hiroshi Suzuki

永樹龍博

Tatsuhiro Nagaki

福島史士

Fumio Fukushima

涂 泳策

Yong-ce Tu

安田陽子

Yōko Yasuda

冨木由美子

Yumiko Tomiki

東出 太

Futoshi Higashide

丸山匡彦

Masahiko Maruyama

加藤義貴

Yoshitaka Katō

竹森由加

Yuka Takemori

千葉靖子

Yasuko Chiba

佐藤祐介

Yusuke Satō

藤原未来夫

Mikio Fujiwara

信実節子

Setsuko Nobuzane

石井珠樹

Tamaki Ishii

手塚江美

Emi Tezuka

ミュウ

Myū

作画監督補佐

Assistant Animation Supervisor

島貫正弘

Masahiro Shimanuki

舘 直樹

Naoki Tate

ED作画監督/原画

Ending Animation Supervisor/Key Animation

山室直儀

Tadayoshi Yamamuro

動画

In-Between Animation

Toei Phils.

Toei Animation Philippines

武遊

Buyū

A-Line

A-Line

彩色

Digital Coloring

Toei Phils.

Toei Animation Philippines

武遊

Buyū

A-Line

A-Line

色指定

Color Designation

加藤良高

Yoshitaka Katō

デジタル特殊効果

Digital Special Effects

下川信裕

Nobuhiro Shimokawa

デジタルアーティスト

Digital Artist

川崎健太郎

Kentarō Kawasaki

背景

Backgrounds

ビック・スタジオ

bic-Studio

studio AR.T.ON

柳 煥錫

Liu Huanxi

李 旼貞

Li Minzhen

徐 柱星

Xu Zhuxing

高 智榮

Gao Zhirong

李 智恩

Li Zhi'en

黄 琇詠

Huang Xiuyong

崔 有眞

Cui Youzhen

 

デジタル撮影

Digital Photography

AMGA

AMGA

競 昌則

Masanori Kisoi

服部 安

Yasushi Hattori

平井智朗

Tomoaki Hirai

榎本星夢

Seimu Enomoto

岡田由紀

Yuki Okada

西 重成

Shigenari Nishi

杉浦仙一

Sen'ichi Sugiura

姜 亜偉

Ai Kyō

 

エンディングテーマ

Ending Theme

作詞曲

Lyrical Composition

編曲

Arrangement

唄

Vocals

「よかよかダンス」

"Easy-Going Dance"

小野武正

Takemasa Ono

NARASAKI

NARASAKI

ばってん少女隊

Batten Showjo Tai

(ビクターエンタテインメント)

(Victor Entertainment)

音響監督

Audio Director

本田保則

Yasunori Honda

編集

Editing

西村英一

Ei'ichi Nishimura

録音

Recording

伊東光晴

Mitsuharu Itō

録音助手

Recording Assistance

新垣未希

Miki Aragaki

音響効果

Sound Effects

西村睦弘

(JetSoundEngine)

Mutsuhiro Nishimura

(JetSoundEngine)

記録

Documentation

沢井尚子

Shōko Sawai

アシスタントプロデューサー

Assistant Producer

静 美保

(読売広告社)

Miho Shizuka

(Yomiko Advertising, Inc.)

音響製作

Audio Production

タバック

TAVAC

録音スタジオ

Recording Studio

サウンドイン

Sound Inn

東映デジタルセンター

Toei Digital Center

オンライン編集

Online Editing

東映デジタルラボ

Toei Digital Lab

酒井美貴子

Mikiko Sakai

音楽協力

Music In Association With

東映アニメーション音楽出版

Toei Animation Music Publishing

フジパシフィックミュージック

FUJIPACIFIC MUSIC

企画協力

Planning In Cooperation With

集英社「Vジャンプ」編集部

Shueisha's "V-Jump" Editorial Department

演出助手

Assistant Director

石谷 恵

Megumi Ishitani

製作進行

Assistant Production Manager

澤守 洸

Takeshi Sawamori

美術進行

Art Manager

西牧正人

Masato Nishimaki

仕上進行

Finishing Manager

河本隆弘

Takahiro Kawamoto

CG進行

CG Manager

渡辺克博

Katsuhiro Watanabe

演技事務

Talent Coordination

角 康昭

Yasuaki Tsuno

広報

Public Relations

清田美智子

(フジテレビ)

Michiko Kiyota

(Fuji TV)

太田真紀子

(フジテレビ)

Makiko Ōta

(Fuji TV)

データ放送

Datacasting

腰塚 悠

(フジテレビ)

Yū Koshitsuka

(Fuji TV)

美術

Art Director

李 凡善

Bun-sun Lee

総作画監督

Chief Animation Supervisor

辻 美也子

Miyako Tsuji

作画監督

Animation Supervisor

唐澤雄一

Yūichi Katsusawa

篁 馨

Kaori Takamura

信実節子

Setsuko Nobuzane

演出

Director

竹下健一

Ken'ichi Takeshita