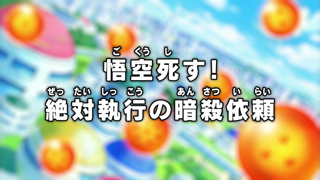 悟空死す!絶対執行の暗殺依頼
Gokū Shisu! Zettai Shikkō no Ansatsu Irai
Goku Dies! A Hit-Job That Can't Be Refused
Episode Information
Episode Synopsis
As Vegeta trains with Whis on Beerus' planet in preparation for the "Tournament of Power", Goku goes about his day on Earth shopping for groceries and spending time with his family. However, he has been acting strange lately, which has not gone unnoticed by Gohan and Goten. Finally confiding in them, Goku says that someone is after his life. Meanwhile, off on a distant planet, Hit finishes up an assignment and receives his next target — Son Goku! As Gohan fills in Piccolo, Goku notices Hits approach and inconspicuously flies off. Goku lands in a desolate area and powers up to Super Saiyan Blue, with Hit appearing behind him. As the others rush toward them, the battle unfolds and Hit quickly has the upper hand. Goku prepares to fire a ki blast, but Hit suddenly attacks with a single, invisible strike to Goku's heart. As Goku falls to the ground, he fires his ki blast straight up into the sky and Hit departs, assignment complete. Gohan, Piccolo, and Goten soon arrive on the scene to find Goku, laying motionless on the ground, dead!
Epilogue
Goku quivers in pain before falling to the ground, his eyes glazed over. Gohan, Piccolo, and Goten soon arrive on the scene to find Goku, laying motionless on the ground, dead!
Part A
Earlier that day… Goku is at home, standing outside quietly meditating and intensely focusing on his surroundings. Chi-Chi yells that the food is ready and Goku goes inside to eat. As he eats (one grain of rice at a time), he wonders to himself why he cannot sense "his" energy, thinking he must be masking it on purpose. Goten and Chi-Chi watch on in bewilderment, when Goku suddenly tells Chi-Chi there are three cockroaches behind the refrigerator. Chi-Chi yells at Goku that he has been acting so strange lately, wondering what is up. Goku starts to explain what is going on, but then suddenly rushes to the door, throwing it open to find the mailman, who is completely startled. Goku apologizes…
Meanwhile, Vegeta is training with Whis on Beerus' planet, but Beerus is more interested in Goku's training. Whis informs him that he has not been coming here to train, and he is not really sure what Goku has been doing. Beerus is irate and begins to panic, since the "Tournament of Power" could begin at any time of Omni-King's choosing. Vegeta on the other hand is upset to hear Beerus say Goku is the top fighter on the team. Beerus tells Whis to take responsibility of Goku and walks away. Whis silently smiles, and Vegeta thinks that Whis knows something that he is not saying… Whis then tells Vegeta they will continue with their training, but Vegeta presses Whis about what Kakarrot is actually doing. Whis pauses before telling him he does not know what Goku is doing, and so Vegeta vows to train ever harder to surpass Kakarrot.
Back on Earth, Goku is walking back from the super market carrying a bag of groceries and a giant fish. Gohan and Goten are watching him from afar, and Gohan suggests they need disguises or they will surely be spotted. Gohan transforms into Great Saiyaman and holds out a similar outfit for Goten, but he opts to only wear the sunglasses. Goku is now walking around with his eyes closed, focusing on finding something. As Gohan and Goten follow, Goku begins walking through random areas, causing confusion and annoyance among people in the city. Goku starts looking everywhere around the city, wondering where "he" is. As he crosses the street without looking, Bulma comes driving along and crashes into Goku. Bulma begins scolding him, and Gohan thinks this is all very strange. They are going to have to ask him directly what is going on, maybe over dinner.
That evening everyone is at Videl and Gohan's house, enjoying a delicious spread of food. After finishing all the food, Goku relaxes on the swing set outside. Gohan and Goten then confront him about what is going on, and Goku wants to know if that is why they were following him earlier. Gohan is shocked to hear he noticed, but is more curious about who he is looking for. Goku says they cannot tell Chi-Chi, but someone is coming for his life!
Meanwhile, somewhere on a distant barren planet covered in bio-domes, Hit stands waiting in the rain for his next assignment…
Part B
Hit, now in a populated city on another planet, walks down the street toward a large building near the center of the city. As Hit approaches he uses his Time-Skip technique to pass through the front gate and enter the building without alerting building security. The elevator then begins to rise, approaching the 50th floor. Security on the floor note that there are no scheduled appointments today and prepare to stop whoever is inside. The elevator doors open, but no one is inside. Using his Time-Skip technique, Hit exits the elevator and approaches a rotund man sitting at the desk on the other side of the room. Hit unfreezes the man, informing him that he is there to kill him. The man calls for his guards to stop this man, but no one moves or responds. Realizing he is the legendary assassin Hit, the man pleads and offers him all his money. Hit casually declines and then instantly kills him with one blow to his heart. Hit takes the man's necklace and then disappears. As time returns to normal, the man's guards find him dead on the floor, bewildered as to what has happened.
Back on his planet, Hit tosses the man's necklace on a statue as proof of completion and receives a new assignment… Son Goku! Hit smiles, and walks away.
Piccolo notes that Gohan has been acting strange all evening, and Gohan fills in Piccolo about his father. As the two walk about talking and everyone is enjoying themselves inside, Goku senses Hit is on his way and suddenly flies off in hopes that no one else will get hurt interfering with their fight. Meanwhile, Gohan has finished filling in Piccolo, who is shocked to hear Goku is being targeted by Hit. Knowing this is serious, Piccolo looks over and notices Goku is gone.
Goku lands in a desolate area and focuses, finally sensing Hit's faint energy. Knowing he is nearby, Goku transforms to Super Saiyan Blue and Hit appears behind him. Back at Gohan's house, Piccolo suddenly notices that he cannot sense Goku's energy anymore. "He must have become Super Saiyan Blue!" Goten runs over having sensed the same thing, and the trio fly off to find Goku.
Goku suddenly realizes Hit is behind him, and Hit informs Goku that he has been hired to him. Goku is surprised that he was able to sneak up behind him so easily, especially since he has been training so hard. Since he respects Goku, Hit has an offer for him: if Goku disappears, he will just say he killed him. Goku declines, and Hit says he expected that. With that he asks Goku to turn around so he can complete his work. His rule is to kill from the front with a single strike. Goku is intrigued, but insists his technique will not work on him anymore. Hit chuckles, saying he will not be so charitable as to use Time-Skip on him. Goku says he will not go down so easily and rushes at Hit, but none of Goku's punches land and simply go through Hit. Goku prepares to fire a ki blast, but Hit suddenly attacks with a single, invisible strike to Goku's heart. As Goku quivers in pain and falls to the ground, he fires his ki blast straight up into the sky. Hit promises to return for his funeral, and then disappears. Gohan, Piccolo, and Goten soon arrive on the scene to find Goku, laying motionless on the ground, dead!










Next Time:


"Can You Counterattack?! An Invisible Assassination Technique!!"
Episode Credits
The overall credits listed follow a straight forward structure; the staff involved with the production of the series as a whole are listed in the opening credits and the staff involved with this specific episode are listed in the ending credits. All credits listed below are presented as they originally appeared in the episode's initial broadcast, although errors have been corrected to maintain accurate and consistent spellings throughout the site. For more information and a complete listing of the series' staff, visit the Animation Production Guide.
Cast Credits
孫悟空

Son Goku

孫悟飯

Son Gohan

孫悟天

Son Goten

野沢雅子

Masako Nozawa

 

 

ブルマ

Bulma

鶴 ひろみ

Hiromi Tsuru

ベジータ

Vegeta

堀川りょう

Ryō Horikawa

ピッコロ

Piccolo

古川登志夫

Toshio Furukawa

チチ

Chi-Chi

渡辺菜生子

Naoko Watanabe

ビルス

Beerus

山寺宏一

Kōichi Yamadera

ウイス

Whis

森田成一

Masakazu Morita

ヒット

Hit

山路和弘

Kazuhiro Yamaji

ボス

Boss

中村浩太郎

Kōtarō Nakamura

キャスター

Newscaster

鹿野優以

Yui Kano

ボディーガード

Bodyguard

織田優成

Yūsei Oda

千葉俊哉

Toshiya Chiba

ナレーション

Narration

龍田直樹

Naoki Tatsuta
Opening Credits
原作・ストーリー原案・キャラクター原案

Original Author / Story Draft / Character Drafts

鳥山 明

(集英社「ジャンプコミックス」刊)

Akira Toriyama

(Published in Shueisha's "Jump Comics")

企画

Planning

情野誠人

(フジテレビ)

Masato Seino

(Fuji TV)

渡辺和哉

(読売広告社)

Kazuya Watanabe

(Yomiko Advertising, Inc.)

森下孝三

Kōzō Morishita

プロデューサー

Producer

橋爪駿輝

(フジテレビ)

Shunki Hashizume

(Fuji TV)

佐川直子

(読売広告社)

Naoko Sagawa

(Yomiko Advertising, Inc.)

木戸 睦

Atsushi Kido

高見 暁

Satoru Takami

音楽

Music

住友紀人

Norihito Sumitomo

オープニングテーマ

Opening Theme

作詞

Lyrics

作曲

Composition

唄

Vocals

「超絶☆ダイナミック!」

"Chōzetsu ☆ Dynamic!"

森 雪之丞

Yukinojō Mori

吉井和哉

Kazuya Yoshii

吉井和哉

Kazuya Yoshii

(日本コロムビア/トライアド)

(Nippon Columbia / Triad)

製作担当

Production Manager

末竹 憲

Ken Suetake

美術デザイン

Art Design

行 信三

Shinzō Yuki

色彩設計

Color Design

加藤良高

Yoshitaka Katō

キャラクターデザイン・作画監修

Character Design & Supervising
Director of Animation

山室直儀

Tadayoshi Yamamuro


シリーズディレクター

Series Director

羽多野浩平

Kōhei Hatano

畑野森生

Morio Hatano

制作協力

Production Coordination

東映

Toei

制作

Production

フジテレビ

Fuji TV

読売広告社

Yomiko Advertising, Inc.

東映アニメーション

Toei Animation
Ending Credits
脚本

Script

吉高寿男

Toshio Yoshitaka

声の出演

Voice Performances

~~~~

協力

In Cooperation With

青二プロダクション

Aoni Production

原画

Key Animation

佐々門信芳

Nobuyoshi Sasakado

美馬健二

Kenji Miuma

仁井宏隆

Hirotaka Nii

木崎由香梨

Yukari Kizaki

大山康彦

Yasuhiko Ōyama

島貫正弘

Masahiro Shimanuki

月乃むあ

Mua Tsukino

横山美雪

Miyuki Yokoyama

スタジオエル

Studio Elle

村 俊太郎

Shuntarō Mura

若菜宣典

Yoshinori Wakana

服部益実

Masumi Hattori

山下 恵

Megumi Yamashita

芳山 優

Yū Yoshiyama

石川 修

Osamu Ishikawa

菅原リエコ

Rieko Sugawara

アクタス

Actas

 

動画

In-Between Animation

Toei Phils.

Toei Animation Philippines

武遊

Buyū

A-Line

A-Line

デジタル彩色

Digital Coloring

Toei Phils.

Toei Animation Philippines

武遊

Buyū

A-Line

A-Line

色指定

Color Designation

加藤良高

Yoshitaka Katō

仕上げ検査

Finishing Inspection

相澤里佳

Rika Aizawa

デジタル特殊効果

Digital Special Effects

下川信裕

Nobuhiro Shimokawa

デジタルアーティスト

Digital Artist

川崎健太郎

Kentarō Kawasaki

背景

Backgrounds

徳重 賢

Ken Tokushige

吉田智子

Tomoko Yoshida

Toei Phils.

Toei Animation Philippines

井芹達朗

Tatsurō Iseri

西田 渚

Nagisa Nishida

ダッビー・モラート

Dabby Morat

デジタル撮影

Digital Photography

AMGA

AMGA

競 昌則

Masanori Kisoi

服部 安

Yasushi Hattori

平井智朗

Tomoaki Hirai

榎本星夢

Seimu Enomoto

岡田由紀

Yuki Okada

西 重成

Shigenari Nishi

杉浦仙一

Sen'ichi Sugiura

姜 亜偉

Ai Kyō

金 正徳

Masanori Kin

エンディングテーマ

Ending Theme

作詞

Lyrics

作曲/編曲

Composition/Arrangement

唄

Vocals

「炒飯MUSIC」

"Chao Fan MUSIC"

アルカラ

Arukara

アルカラ

Arukara

アルカラ

Arukara

(スピードスターレコーズ)

(SPEEDSTAR RECORDS)

音響監督

Audio Director

本田保則

Yasunori Honda

編集

Editing

西村英一

Ei'ichi Nishimura

編集助手

Editing Assistance

向井咲子

Sakiko Mukai

録音

Recording

新垣未希

Miki Aragaki

録音助手

Recording Assistance

伊東光晴

Mitsuharu Itō

音響効果

Sound Effects

西村睦弘

(JetSoundEngine)

Mutsuhiro Nishimura

(JetSoundEngine)

記録

Documentation

沢井尚子

Shōko Sawai

アシスタントプロデューサー

Assistant Producer

静 美保

(読売広告社)

Miho Shizuka

(Yomiko Advertising, Inc.)

音響製作

Audio Production

タバック

TAVAC

録音スタジオ

Recording Studio

サウンドイン

Sound Inn

東映デジタルセンター

Toei Digital Center

オンライン編集

Online Editing

東映デジタルラボ

Toei Digital Lab

小山雅史

Masashi Koyama

音楽協力

Music In Association With

東映アニメーション音楽出版

Toei Animation Music Publishing

フジパシフィックミュージック

FUJIPACIFIC MUSIC

企画協力

Planning In Cooperation With

集英社「Vジャンプ」編集部

Shueisha's "V-Jump" Editorial Department

演出助手

Assistant Director

川崎弘二

Kōji Kawasaki

製作進行

Assistant Production Manager

難波 涼

Ryō Nanba

美術進行

Art Manager

西牧正人

Masato Nishimaki

仕上進行

Finishing Manager

河本隆弘

Takahiro Kawamoto

CG進行

CG Manager

横尾裕次

Yūji Yokō

設定制作

Setting Production

矢口雅之

Masayuki Yaguchi

演技事務

Talent Coordination

角 康昭

Yasuaki Tsuno

広報

Public Relations

太田真紀子

(フジテレビ)

Makiko Ōta

(Fuji TV)

データ放送

Datacasting

腰塚 悠

(フジテレビ)

Yū Koshitsuka

(Fuji TV)

美術

Art Director

佐藤美幸

Miyuki Satō

総作画監督

Chief Animation Supervisor

井手武生

Takeo Ide

作画監督

Animation Supervisor

石川 修

Osamu Ishikawa

島貫正弘

Masahiro Shimanuki

絵コンテ

Storyboard

山元清里

Kiyosato Yamamoto

唐澤和也

Kazuya Karasawa

角銅博之

Hiroyuki Kakudō

演出

Director

川崎弘二

Kōji Kawasaki