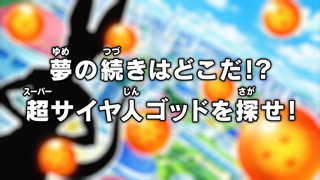 夢の続きはどこだ!?超サイヤ人ゴッドを探せ!
Yume no Tsuzuki wa Doko da!? Sūpā Saiya-jin Goddo o Sagase!
Where Does the Dream Continue?! Find Super Saiyan God!
Episode Information
Episode Summary
As Beerus and Whis head back home, Beerus is still trying to remember the name of the figure from his dream. "Super Seiyan God"? "Super Soyan God"? Either way, Whis thinks the name sounds too overblown. Beerus notes that he did not get to eat anything sweet while they were out, but Whis tells him there are some limited edition sweets in the freezer back home.
In the Kaiōshin Realm, the Elder Kaiōshin explains Beerus' role to East Kaiōshin — just as there are Gods of Creation, to balance them out there are also Gods of Destruction like Beerus. East Kaiōshin assumes there must be some meaning behind which planets Beerus destroys, but Elder Kaiōshin corrects him. Beerus is fickle and simply destroys whatever planets he feels like. They decide they must prevent Goku from learning about Beerus, since the battle-crazy moron would be sure to challenge Beerus. Thankfully only gods can sense Beerus' ki, and Goku is off on the distant planet Earth. But at that moment Kaiō telepathically contacts the Kaiōshins to inform them that Goku is training on his planet. Goku overhears his name being mentioned, but Kaiō successfully distracts him by complaining about the time Goku teleported Cell to his planet.
Back home, Beerus summons the Oracle Fish and asks about her prophecy. 39 years ago she predicted that in 39 years' time a formidable foe would appear for him to fight, but what was that foe's name? At first the Oracle Fish can't remember, but when Beerus suggests they reduce her daily meals from three down to two, it jogs her memory: "Super Saiyan God"! Whis catches Beerus up to speed on how Freeza destroyed Planet Vegeta, was defeated by Goku, and how most of the remaining Saiyans now reside on Earth. Beerus is amazed that a Saiyan managed to defeat Freeza, and decides to head for Kaiō's planet to ask Goku about Super Saiyan God.
On Earth, Kuririn, No. 18, and Marron are stuck in traffic driving to Bulma's birthday party. They would have left sooner, but No. 18 spent a lot of time applying makeup. She wanted to look her best for the big party, and is excited about the fancy bingo tournament prizes. Fed up with traffic, Kuririn puts his car into a capsule and they fly the rest of the way themselves, with Kuririn holding Marron in his arms. On the way over they run into Yamcha, Tenshinhan, and Chiaotzu. An enormous cruise ship is moored at the beach, and on board preparations are wrapping up for Bulma's party. The bingo tournament's top prize is strictly under wraps. Gohan, Videl, and Chi-Chi arrive, and Gohan shows Piccolo some of his wedding photos. Kame-Sen'nin and Oolong ogle some women on the beach, but Chi-Chi stops them, and Satan likewise has to keep Boo from eating all the food ahead of schedule. The gang's all there… almost. Bulma is disgusted to learn that both Vegeta and Goku are off training, and so she sets sail without them.
On Kaiō's planet, Goku suddenly drops his training weights in alarm. For a moment Kaiō thinks he must have sensed Beerus, but actually Goku has just remembered Bulma's party was today. He's in a panic; Bulma's scary when she's mad! Back at Beerus' palace, Whis has finished making bento, which they plan to stop and eat along the way. Whis says it will take about 26 minutes to reach North Kaiō's planet, which upsets Beerus: that's long enough to watch an anime episode! In the Kaiōshin Realm, Elder Kaiōshin is alarmed at how many planets Beerus has already destroyed. But he panics even more when he realizes that Beerus is heading straight for Kaiō's planet! Is there any way to keep Beerus and Goku apart?!










Next Time:


"Aim for the Dragon Balls! The Pilaf Gang's Great Strategy!"
Episode Notes
Beerus mispronounces what we know will eventually be "Super Saiyan God" (sūpā saiyajin goddo) as Super "Seiya-jin" and "Soiya-jin" God; he simply moves the サ ("sa") to セ ("se") and ソ ("so"). The former sounds a lot like FUNimation's English dub pronunciation of "Saiyan"; whether or not this is simply a coincidence of the writing or an intentional jab at the dub mispronunciation is unknown.
Whis' comment that the "Super Saiyan God" name is "rather exaggerated" originated in the Battle of Gods script by way of a comment from Akira Toriyama himself, which was published in the 2013 Weekly Shōnen Jump series of "Please Tell Us, Akira Toriyama-sensei!!" Q&As.
Whereas North Kaiō explains the Gods of Creation and God of Destruction to Goku in Battle of Gods, here in Dragon Ball Super the Elder Kaiōshin explains it to the younger Kaiōshin.
North Kaiō mentions that the other Kaiō make fun of him for being dead. This originated in the afterlife tournament filler following the Cell Games in the Dragon Ball Z TV series; West Kaiō (there with Paikuhan) notices North Kaiō's halo and proceeds to laugh at him for dying. Toriyama provided some input and design work on this filler material.
In the original Battle of Gods script from Yusuke Watanabe, Beerus was originally going to be a lizard responsible for infecting the Saiyans with evil. Some of this lizard imagery is still present in the backgrounds of the film, and has also made its way here to Dragon Ball Super.
In the 2013 theatrical film Dragon Ball Z: Battle of Gods, the bingo tournament held at Bulma's birthday party was simply named "Bingo Tournament" (ビンゴ大会). However, in the Dragon Ball Super TV series it has been re-titled as her "Super Bingo Tournament" (超ビンゴ大会), an obvious reference to the series' title. Similar to the movie, the tournament's prizes include an "amazing jet plane" (3rd), a "nice castle" (2nd), a "big diamond" (1st), and a "secret" grand prize.
At Bulma's birthday party, Gohan presents Piccolo with a photo of them at his wedding. However, the wedding attire worn by Gohan and Videl does not match the wedding photo that was originally shown in Dragon Ball Z episode 289.

While discussing all of the planets Beerus has destroyed, the Elder Kaiōshin mentions that Beerus is the one who had sealed him away in the Z Sword all those years ago. This fact was first introduced by author Akira Toriyama in his "Twel-Boo Mysteries" Q&A with Naho Ooishi in the June 2014 issue of Saikyō Jump.
Errata
While Gohan, Videl, and Chi-Chi are talking with Bulma after arriving at her birthday party, Videl's black leggings disappear and instead her bare legs are shown. Oddly enough, as the group turns to look over at Kame-Sen'nin and Oolong ogling women on the beach, her leggings suddenly reappear. Hover the image below to see these two frames.
Staff & Cast Notes
Japanese idol Shōko Nakagawa returns to reprise her role as the Oracle Fish.
Episode director Masanori Satō is credited as his own assistant director for this episode, indicating he performed both roles.
Episode Credits
All credits listed below are as originally presented in the episode. The credit structure used in Dragon Ball Super is actually quite simple; the staff involved with the production of the series as a whole are listed in the opening credits and the staff involved with this specific episode are listed in the ending credits. All original credit errors have been corrected to maintain accurate spellings throughout the site. For more information and a complete listing of the series staff, visit the Production Guide.
Cast Credits
孫悟空

Son Goku

孫悟飯

Son Gohan

孫悟天

Son Goten

野沢雅子

Masako Nozawa

 

 

亀仙人

Kame-Sen'nin

佐藤正治

Masaharu Satō

ブルマ

Bulma

鶴 ひろみ

Hiromi Tsuru

ベジータ

Vegeta

堀川りょう

Ryō Horikawa

クリリン

Kuririn

田中真弓

Mayumi Tanaka

ピッコロ

Piccolo

古川登志夫

Toshio Furukawa

ヤムチャ

Yamcha

古谷 徹

Tōru Furuya

天津飯

Tenshinhan

緑川 光

Hikaru Midorikawa

トランクス

Trunks

草尾 毅

Takeshi Kusao

チチ

Chi-Chi

渡辺菜生子

Naoko Watanabe

ビーデル

Videl

皆口裕子

Yūko Minaguchi

ウーロン

Oolong

龍田直樹

Naoki Tatsuta

餃子

Chiaotzu

江森浩子

Hiroko Emori

マーロン

Marron

牛田裕子

Hiroko Ushida

ミスターサタン

Mister Satan

石塚運昇

Unshō Ishizuka

ビルス

Beerus

山寺宏一

Kōichi Yamadera

ウイス

Whis

森田成一

Masakazu Morita

人造人間18号

Artificial Human No. 18

伊藤美紀

Miki Itō

魔人ブウ

Majin Boo

塩屋浩三

Kōzō Shioya

キビト界王神

Kibito-Kaiōshin

太田真一郎

Shin'ichirō Ōta

老界王神

Elder Kaiōshin

田中亮一

Ryōichi Tanaka

バブルス

Bubbles

藤本たかひろ

Takahiro Fujimoto

予言魚

Oracle Fish

中川翔子

Shōko Nakagawa

界王

Kaiō

八奈見乗児

Jōji Yanami
Opening Credits
原作・ストーリー原案・キャラクター原案

Original Author / Story Draft / Character Drafts

鳥山 明

(集英社「ジャンプコミックス」刊)

Akira Toriyama

(Published in Shueisha's "Jump Comics")

企画

Planning

情野誠人

(フジテレビ)

Masato Seino

(Fuji TV)

渡辺和哉

(読売広告社)

Kazuya Watanabe

(Yomiko Advertising, Inc.)

森下孝三

Kōzō Morishita

プロデュサー

Producer

野﨑 理

(フジテレビ)

Osamu Nozaki

(Fuji TV)

佐川直子

(読売広告社)

Naoko Sagawa

(Yomiko Advertising, Inc.)

木戸 睦

Atsushi Kido

音楽

Music

住友紀人

Norihito Sumitomo

オープニングテーマ

Opening Theme

作詞

Lyrics

作曲

Composition

唄

Vocals

「超絶☆ダイナミック!」

"Chōzetsu ☆ Dynamic!"

森 雪之丞

Yukinojō Mori

吉井和哉

Kazuya Yoshii

吉井和哉

Kazuya Yoshii

(日本コロムビア/トライアド)

(Nippon Columbia / Triad)

製作担当

Production Manager

末竹 憲

Ken Suetake

美術デザイン

Art Design

行 信三

Shinzō Yuki

色彩設計

Color Design

堀田哲平

Teppei Hotta

キャラクターデザイン・作画監修

Character Design & Supervising
Director of Animation

山室直儀

Tadayoshi Yamamuro


シリーズディレクター

Series Director

地岡公俊

Kimitoshi Chioka

制作協力

Production Coordination

東映

Toei

制作

Production

フジテレビ

Fuji TV

読売広告社

Yomiko Advertising, Inc.

東映アニメーション

Toei Animation
Ending Credits
脚本

Script

吉高寿男

Toshio Yoshitaka

声の出演

Voice Performances

~~~~

協力

In Cooperation With

青二プロダクション

Aoni Production

原画

Key Animation

八島善孝

Yoshitaka Yashima

会津五月

Satsuki Aizu

Toei Phils.

Toei Animation Philippines

動画

In-Between Animation

Toei Phils.

Toei Animation Philippines

デジタル彩色

Digital Coloring

Toei Phils.

Toei Animation Philippines

色指定

Color Designation

加藤良高

Yoshitaka Katō

デジタル特殊効果

Digital Special Effects

下川信裕

Nobuhiro Shimokawa

デジタルアーティスト

Digital Artist

牧野 快

Kai Makino

背景

Backgrounds

アテネアートスタジオ

Athens Art Studio

斉藤信二

Shinji Saito

木下千春

Chiharu Kinoshita

山本真生

Mao Yamamoto

大谷正信

Masanobu Ōtani

赤保谷則子

Noriko Akahoya

勝又アイ子

Aiko Katsumata

デジタル撮影

Digital Photography

AMGA

AMGA

競 昌則

Masanori Kisoi

服部 安

Yasushi Hattori

平井智朗

Tomoaki Hirai

姜 亜偉

Ai Kyō

岡田由紀

Yuki Okada

西 重成

Shigenari Nishi

杉浦仙一

Sen'ichi Sugiura

茂木邦夫

Kunio Mogi

 

エンディングテーマ

Ending Theme

作詞

Lyrics

作曲

Composition

唄

Vocals

「ハローハローハロー」

"Hello Hello Hello"

金廣真悟

Shingo Kanehiro

金廣真悟

Shingo Kanehiro

グッドモーニングアメリカ

Good Morning America

(日本コロムビア/トライアド)

(Nippon Columbia / Triad)

音響監督

Audio Director

本田保則

Yasunori Honda

編集

Editing

西村英一

Ei'ichi Nishimura

録音

Recording

伊東光晴

Mitsuharu Itō

録音助手

Recording Assistance

新垣未希

Miki Aragaki

音響効果

Sound Effects

西村睦弘

(フィズサウンド)

Mutsuhiro Nishimura

(Fizz Sound)

記録

Documentation

沢井尚子

Shōko Sawai

アシスタントプロデュサー

Assistant Producer

出樋昌稔

(フジテレビ)

Masatoshi Dasuze

(Fuji TV)

静 美保

(読売広告社)

Miho Shizuka

(Yomiko Advertising, Inc.)

音響製作

Audio Production

タバック

TAVAC

録音スタジオ

Recording Studio

タバック

TAVAC

東映デジタルセンター

Toei Digital Center

オンライン編集

Online Editing

東映デジタルラボ

Toei Digital Lab

音楽協力

Music In Association With

東映アニメーション音楽出版

Toei Animation Music Publishing

フジパシフィックミュージック

FUJIPACIFIC MUSIC

企画協力

Planning In Cooperation With

集英社「Vジャンプ」編集部

Shueisha's "V-Jump" Editorial Department

演出助手

Assistant Director

佐藤雅教

Masanori Satō

製作進行

Assistant Production Manager

小林克規

Katsunori Kobayashi

美術進行

Art Manager

西牧正人

Masato Nishimaki

仕上進行

Finishing Manager

河本隆弘

Takahiro Kawamoto

CG進行

CG Manager

渡辺克博

Katsuhiro Watanabe

演技事務

Talent Coordination

角 康昭

Yasuaki Tsuno

広報

Public Relations

山本麻未子

(フジテレビ)

Mamiko Yamamoto

(Fuji TV)

美術

Art Director

杦浦正一郎

Sei'ichiro Sugiura

斉藤信二

Shinji Saito

総作画監督

Chief Animation Supervisor

井手武生

Takeo Ide

作画監督

Animation Supervisor

八島善孝

Yoshitaka Yashima

演出

Director

佐藤雅教

Masanori Satō