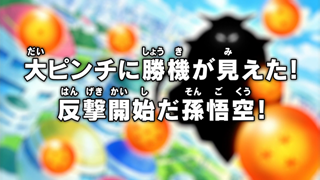 大ピンチに勝機が見えた!反撃開始だ孫悟空!
Dai-Pinchi ni Shōki ga Mieta! Hangeki Kaishi da Son Gokū!
Amidst the Crisis, a Shot at Victory Appears! Son Goku's Counterattack Begins!
Episode Information
Episode Summary
Freeza seems to have thoroughly gained the upper hand against Goku, strangling him with his tail. Seeing Goku reduced to this miserable condition gives Freeza nothing but joy. Over on the sidelines, Kuririn is amazed at just how powerful Golden Freeza is, and Bulma complains to Jaco that at this rate, the Earth is doomed. But Beerus and Whis tell everyone not to panic just yet: Goku still has a shot at victory. Freeza may have grown far stronger, but if Goku and Vegeta teamed up, they could defeat him. Bulma orders Vegeta to go help Goku out, but he does not budge, and Whis explains that the two Saiyans would rather lose than join forces; their pride is simply too high. Bulma is exasperated, and Beerus says that those two are idiots. Whis agrees, saying that they are as stupid as Beerus.
Back on the battlefield, Goku manages to get free of Freeza's tail and starts fighting back, but to no avail. Before too long, Freeza is knocking him around once more. Sorbet notes to himself that his plan was correct: with Freeza back to life, their army can once again aim to conquer the entire universe. Jaco pesters Bulma to have her husband join the battle, since if Goku loses then even Jaco's own life will be at risk, but Bulma says that is easier said than done. With Goku on the ground, Freeza says that this is just a taste of the same sort of humiliation Freeza himself suffered at Goku's hands back on Namek. If only he had managed to use the Dragon Balls to wish for immortality back then, by now he would probably be ruler of the universe. Since the time Goku wrecked his plans, Freeza has thought only of getting his revenge, but now their destiny is complete… and with that, Freeza fires a big blast to finish Goku off.
After the resulting explosion, everyone assumes Goku is dead, until Jaco manages to see through the cloud of smoke that Goku is still alive, though hurt. Goku explains to Freeza that this last attack was super effective: "Frankly, I thought I'd had it." Freeza assumes he must have held back too much. Suddenly, Goku narrowly dodges a blast from below. It's Vegeta! He's mad at Goku for "not catching on", saying that at this rate he might as well just kill Freeza himself. At first Goku is confused, but suddenly seems to realize what Vegeta is talking about. While Vegeta demands Goku swap out with him and let him take on Freeza, Goku refuses, saying that things are just getting interesting. Just wait a little bit more! Freeza is furious at the two Saiyans for not taking him seriously, but Goku apologizes, saying that the real fight starts now.
Goku advises Freeza to just leave now while he is still ahead, but Freeza will not listen. Why should he retreat now, at his moment of victory? Goku explains that he is about to turn the tables on Freeza: while Freeza himself apparently has not realized it yet, his new "Golden Freeza" form has a serious weakness. While it has not factored into the battle so far, if they continue to fight it will definitely become clear as day. Freeza still scoffs, saying that he will simply kill Goku before that happens. Goku says it will not be so simple, and powers up, making Freeza comment that if Goku had that much power, he should have used it from the beginning. Goku says that he will throw everything he has against Freeza, who responds that in that case, he will likewise use his full power to beat Goku black-and-blue before finally killing him. With that, Freeza likewise powers up, impressing Goku. The two will now both fight all-out, just as Goku had hoped for.
Down on the ground, Kuririn is amazed that Goku and Freeza were still concealing so much power; this is a level beyond his comprehension. The two begin the next round of their fight, seemingly now more evenly matched. The two start launching a volley of ki blasts at each other, creating another big cloud of smoke. Freeza suddenly launches forward and engages Goku in hand-to-hand combat, with the sounds of their fighting reverberating outside the smoke cloud. Sorbet is convinced Freeza still has the upper hand, and even Bulma thinks Goku's in trouble. The two come out of the cloud again, and Goku seems to be getting one-sidedly beaten back. Briefly knocked into the water, Goku worries about being at a disadvantage, but Freeza assures him he will not let Goku drown. Back on land, Goku is knocked down on the ground. As he struggles to his feet, Freeza confidently strides toward him, declaring victory. He punches Goku in the head to finish him off… but Goku is completely unfazed.
Goku calmly notes that Freeza's "time limit" seems to be up, and starts easily knocking Freeza around. Freeza happens to land near Sorbet, and the two appear to share a quiet conversation. Goku asks Freeza if he understands now: since Freeza came to Earth right after completing his new "evolution", his Golden Freeza form has very poor stamina, and now he no longer has enough power left to defeat Goku. If Freeza had only taken the time to get used to his new form before coming to Earth, he probably would have won. Off on the sidelines, Beerus and Whis compliment Goku on really using his head for a change. But Freeza refuses to accept this, and vainly tries to fight back. Goku says that there is no point in continuing the fight any longer. Reverting from his blue-haired Super Saiyan form back to normal, he tells Freeza to go home, and offers to take him on again anytime… But before Goku can finish his sentence, a shot from Sorbet's ring pierces his chest.
Goku collapses on the ground, and Freeza compliments Sorbet on a job well done. It was a good thing they thought up that contingency plan, just in case. Beerus says that was a dirty move on Freeza's part, but it was certainly effective, while Whis complains that this is precisely why he pointed out to Goku that he had a bad habit of letting down his guard. As Freeza kicks and stomps on Goku, he mocks him for letting his great strength go to his head and get sloppy. That bad habit was his weakness. "How does it feel, being so strong and yet getting felled by a mere raygun?" Freeza says that the grand story of his revenge is now reaching its climax, and charges up a Death Beam to finally finish Goku off once and for all. But before he can fire it, he narrowly dodges an unexpected attack from Vegeta, who declares that it is time to change fighters.










Next Time:


"The Earth Explodes?! A Climatic Kamehameha"
Episode Credits
All credits listed below are as originally presented in the episode. The credit structure used in Dragon Ball Super is actually quite simple; the staff involved with the production of the series as a whole are listed in the opening credits and the staff involved with this specific episode are listed in the ending credits. All original credit errors have been corrected to maintain accurate spellings throughout the site. For more information and a complete listing of the series staff, visit the Production Guide.
Cast Credits
孫悟空

Son Goku

孫悟飯

Son Gohan

野沢雅子

Masako Nozawa

 

フリーザ

Freeza

中尾隆聖

Ryūsei Nakao

ブルマ

Bulma

鶴 ひろみ

Hiromi Tsuru

ベジータ

Vegeta

堀川りょう

Ryō Horikawa

クリリン

Kuririn

田中真弓

Mayumi Tanaka

ジャコ

Jaco

花江夏樹

Natsuki Hanae

ビルス

Beerus

山寺宏一

Kōichi Yamadera

ウイス

Whis

森田成一

Masakazu Morita

ソルベ

Sorbet

斎藤志郎

Shirō Saitō

ナレーション

Narration

龍田直樹

Naoki Tatsuta
Opening Credits
原作・ストーリー原案・キャラクター原案

Original Author / Story Draft / Character Drafts

鳥山 明

(集英社「ジャンプコミックス」刊)

Akira Toriyama

(Published in Shueisha's "Jump Comics")

企画

Planning

情野誠人

(フジテレビ)

Masato Seino

(Fuji TV)

渡辺和哉

(読売広告社)

Kazuya Watanabe

(Yomiko Advertising, Inc.)

森下孝三

Kōzō Morishita

プロデューサー

Producer

野﨑 理

(フジテレビ)

Osamu Nozaki

(Fuji TV)

佐川直子

(読売広告社)

Naoko Sagawa

(Yomiko Advertising, Inc.)

木戸 睦

Atsushi Kido

寺本知資

Tomosuke Teramoto

音楽

Music

住友紀人

Norihito Sumitomo

オープニングテーマ

Opening Theme

作詞

Lyrics

作曲

Composition

唄

Vocals

「超絶☆ダイナミック!」

"Chōzetsu ☆ Dynamic!"

森 雪之丞

Yukinojō Mori

吉井和哉

Kazuya Yoshii

吉井和哉

Kazuya Yoshii

(日本コロムビア/トライアド)

(Nippon Columbia / Triad)

製作担当

Production Manager

末竹 憲

Ken Suetake

美術デザイン

Art Design

行 信三

Shinzō Yuki

色彩設計

Color Design

堀田哲平

Teppei Hotta

キャラクターデザイン・作画監修

Character Design & Supervising
Director of Animation

山室直儀

Tadayoshi Yamamuro


シリーズディレクター

Series Director

地岡公俊

Kimitoshi Chioka

制作協力

Production Coordination

東映

Toei

制作

Production

フジテレビ

Fuji TV

読売広告社

Yomiko Advertising, Inc.

東映アニメーション

Toei Animation
Ending Credits
脚本

Script

小山 真

Makoto Koyama

声の出演

Voice Performances

~~~~

協力

In Cooperation With

青二プロダクション

Aoni Production

原画

Key Animation

舘 直樹

Naoki Tate

堀井伸雄

Nobuo Horii

山田まさし

Masashi Yamada

村 俊太郎

Shuntarō Mura

Toei Phils.

Toei Animation Philippines

松本勝次

Katsuji Matsumoto

伊藤尚往

Naoyuki Itō

八島善孝

Yoshitaka Yashima

OFFICE DCI

OFFICE DCI

 

ED作画監督/原画

Ending Animation Supervisor/Key Animation

山室直儀

Tadayoshi Yamamuro

原画

Key Animation

山田太郎

Tarō Yamada

柳 孝相

Hyo-sang Yoo

榎本 守

Mamoru Enomoto

李 豪世

Ho-se Lee

studio NEUN

studio NEUN

コア

Core

桜本 春

Haru Sakuramoto

久保充照

Mitsuteru Kubo

大橋勇吾

Yūgo Ōhashi

門 智昭

Tomoaki Kado

星月動画

XingJue Animation

チャイナアニック

China Alnwick

フロンティアエンジン作画監督

Frontier Engine Animation Supervisor

門 智昭

Tomoaki Kado

小川一郎

Ichirō Ogawa

濱川修二郎

Shūjirō Hamakawa

動画

In-Between Animation

Toei Phils.

Toei Animation Philippines

星月動画

XingJue Animation

コア

Core

チャイナアニック

China Alnwick

彩色

Digital Coloring

Toei Phils.

Toei Animation Philippines

星月動画

XingJue Animation

コア

Core

チャイナアニック

China Alnwick

色指定

Color Designation

加藤良高

Yoshitaka Katō

有尾由紀子

Yukiko Ario

デジタル特殊効果

Digital Special Effects

下川信裕

Nobuhiro Shimokawa

デジタルアーティスト

Digital Artist

牧野 快

Kai Makino

奥村崇之

Takayuki Okumura

背景

Backgrounds

徳重 賢

Ken Tokushige

黄 国威

Kunitake Kō

山下千歌

Chika Yamashita

佐藤美幸

Miyuki Satō

田中里緑

Midori Tanaka

 

デジタル撮影

Digital Photography

AMGA

AMGA

競 昌則

Masanori Kisoi

服部 安

Yasushi Hattori

平井智朗

Tomoaki Hirai

姜 亜偉

Ai Kyō

岡田由紀

Yuki Okada

西 重成

Shigenari Nishi

杉浦仙一

Sen'ichi Sugiura

茂木邦夫

Kunio Mogi

 

エンディングテーマ

Ending Theme

作詞

Lyrics

作曲

Composition

編曲

Arrangement

唄

Vocals

「薄紅」

"Light Pink"

松川ケイスケ

Keisuke Matsukawa

LACCO TOWER

LACCO TOWER

LACCO TOWER

LACCO TOWER

LACCO TOWER

LACCO TOWER

(日本コロムビア / トライアド)

(Nippon Columbia / Triad)

音響監督

Audio Director

本田保則

Yasunori Honda

編集

Editing

西村英一

Ei'ichi Nishimura

録音

Recording

伊東光晴

Mitsuharu Itō

録音助手

Recording Assistance

新垣未希

Miki Aragaki

音響効果

Sound Effects

西村睦弘

(JetSoundEngine)

Mutsuhiro Nishimura

(JetSoundEngine)

記録

Documentation

沢井尚子

Shōko Sawai

アシスタントプロデューサー

Assistant Producer

静 美保

(読売広告社)

Miho Shizuka

(Yomiko Advertising, Inc.)

音響製作

Audio Production

タバック

TAVAC

録音スタジオ

Recording Studio

サウンドイン

Sound Inn

東映デジタルセンター

Toei Digital Center

オンライン編集

Online Editing

東映デジタルラボ

Toei Digital Lab

福田明生

Akio Fukuda

音楽協力

Music In Association With

東映アニメーション音楽出版

Toei Animation Music Publishing

フジパシフィックミュージック

FUJIPACIFIC MUSIC

企画協力

Planning In Cooperation With

集英社「Vジャンプ」編集部

Shueisha's "V-Jump" Editorial Department

演出助手

Assistant Director

石谷 恵

Megumi Ishitani

製作進行

Assistant Production Manager

福田一夫

Kazuo Fukuda

樋口雄紀

Yūki Higuchi

美術進行

Art Manager

西牧正人

Masato Nishimaki

仕上進行

Finishing Manager

河本隆弘

Takahiro Kawamoto

CG進行

CG Manager

渡辺克博

Katsuhiro Watanabe

演技事務

Talent Coordination

角 康昭

Yasuaki Tsuno

協力プロダクション

A Cooperative Production With

フロンティアエンジン

Frontier Engine

広報

Public Relations

山本麻未子

(フジテレビ)

Mamiko Yamamoto

(Fuji TV)

美術

Art Director

西田 渚

Nagisa Nishida

総作画監督

Chief Animation Supervisor

辻 美也子

Miyako Tsuji

作画監督

Animation Supervisor

舘 直樹

Naoki Tate

絵コンテ

Storyboard

伊藤尚往

Naoyuki Itō

演出

Director

羽多野浩平

Kōhei Hatano