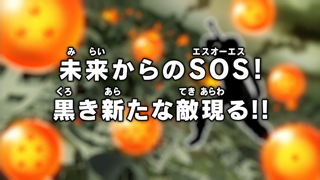 未来からのSOS!黒き新たな敵現る!!
Mirai kara no Esu·Ō·Esu! Kuroki Aratana Teki Arawaru!!
SOS From the Future! A Black New Enemy Appears!!
Episode Information
Episode Summary
In the future, an adult Trunks makes his way through a ruined city and arrives in Bulma's small laboratory. They greet each other as if they have not met in a long time, and Bulma holds up a container of a strange liquid, saying that she has finally gathered enough for a one-way trip. Trunks is shocked it took an entire year to collect only that much, but Bulma reassures him that even with a one-way trip, they should manage something and will just have to chance it.
Trunks wants to set off at once to take the liquid to Capsule Corporation, and Bulma insists on coming with him. She is got to do whatever she can to make sure the liquid remains safe, since so many lives were lost making it; Trunks is everyone's hope! Besides, she adds, Mai is waiting too! Before they can leave though, the lab is attacked by a black, shadowy figure. All of the equipment is destroyed and Bulma is killed, but Trunks manages to get away safely. He vows to return and save this world, no matter what it takes.
In the present, Goku has called Piccolo over to help him collect the harvest. He tries to pass this off as "training", saying that Kame-Sen'nin used to have him train by doing chores like this back when he was a kid, but Piccolo is not buying it. Goku wants to have a competition between himself, Piccolo, and Goten on who can harvest the most vegetables, but Chi-Chi insists that Goten go study instead. He has a test this week!
Goku and Piccolo start harvesting, and Piccolo is impressed at the workout it gives him. Kuririn arrives and is surprised to see Goku there. He heard from Bulma that Vegeta had gone off to Beerus' planet to train, so he assumed Goku would be training there too. Hearing this, Goku senses Vegeta's ki and teleports off to Beerus' planet. Chi-Chi makes Kuririn take Goku's place and finish the rest of the harvesting.
Arriving on Beerus' planet, Goku is mad at Vegeta for leaving without him, but Vegeta says Goku is just too slow. Beerus asks for a souvenir, and Goku gives him one of the lettuce heads he harvested, which he just so happens to still be carrying. Beerus is impressed by its taste, but wonders if it is really a respectful enough gift to give a god. Back in the future, Trunks arrives at Mai's place. He explains what happened to Bulma, noting that "Black" can now sense his ki. He holds up the liquid, saying it is the energy they need to head to the past.
In the present, Goku, Beerus, and the others all take a break to eat some instant ramen. This is more the sort of present Beerus had in mind! Goku wonders if he should bring some for the Omni-King next time. Simply hearing Omni-King's name is enough to freak Beerus out, causing Goku and Vegeta to wonder what the big deal is. Whis explains that Omni-King is the most important person in the entire world; nobody exists above him. Goku asks if he is strong, but Whis says judging people based on their strength is a bad Saiyan habit.
However, Beerus says that while Omni-King does not fight, he is indeed stronger than anyone… to an outrageous degree. Whis adds that Omni-King is capable of instantly wiping out "anything": evil-doers, planets, galaxies… even entire universes! In fact, there used to be 18 universes, but Omni-King destroyed six of them when slightly offended. That is why everyone was so nervous back at the tournament when Goku was chatting with Omni-King so casually. This information does not disturb Goku too much though, and instead he is far too excited at the thought of the upcoming tournament between all the universes.
In the future, Mai presents Trunks with a can of food. "It's not dog food! Amazing, right?" A cat (suspiciously similar to Dr. Brief's pet cat) approaches. Trunks wonders if it will be able to survive on its own once they are gone, but Mai reassures him that cats forget their owner's faces after three days. Trunks insists that Mai eat the canned food herself, saying that he ate earlier. Mai is worried when she hears that they only have enough energy for a one-way trip, but Trunks says the important thing is that they survive. Besides, his mother hinted that there would be some way for them to return to their own time, although he still does not know what that is. Still, he trusts in his mother. First, they will head to West City 17 years ago, since he has allies there.
Trunks cannot sense Black's ki, so they head off. Soon though, the same shadowy figure from before approaches. Despite Trunks' protests, Mai distracts Black so that Trunks can get away, saying that Trunks is the one who absolutely must stay alive. Mai is attacked by Black and sent flying, and Trunks rushes to her side, finding her dead. Trunks faces off against Black, who is revealed to look exactly like Goku, except dressed in black clothes with a red belt and a single green earring. "At long last", says Black. "Today's the day you die, Saiyan!"










Next Time:


"Hope Again!! Trunks Wakes Up in the Present"
Episode Credits
All credits listed below are as originally presented in the episode. The credit structure used in Dragon Ball Super is actually quite simple; the staff involved with the production of the series as a whole are listed in the opening credits and the staff involved with this specific episode are listed in the ending credits. All original credit errors have been corrected to maintain accurate spellings throughout the site. For more information and a complete listing of the series staff, visit the Production Guide.
Cast Credits
孫悟空

Son Goku

孫悟天

Son Goten

野沢雅子

Masako Nozawa

 

ブルマ

Bulma

鶴 ひろみ

Hiromi Tsuru

ベジータ

Vegeta

堀川りょう

Ryō Horikawa

クリリン

Kuririn

田中真弓

Mayumi Tanaka

ピッコロ

Piccolo

古川登志夫

Toshio Furukawa

トランクス

Trunks

草尾 毅

Takeshi Kusao

チチ

Chi-Chi

渡辺菜生子

Naoko Watanabe

ビルス

Beerus

山寺宏一

Kōichi Yamadera

ウイス

Whis

森田成一

Masakazu Morita

マイ

Mai

山田栄子

Eiko Yamada

子猫

Kitten

金魚わかな

Wakana Kingyo

ナレーション

Narration

龍田直樹

Naoki Tatsuta
Opening Credits
原作・ストーリー原案・キャラクター原案

Original Author / Story Draft / Character Drafts

鳥山 明

(集英社「ジャンプコミックス」刊)

Akira Toriyama

(Published in Shueisha's "Jump Comics")

企画

Planning

情野誠人

(フジテレビ)

Masato Seino

(Fuji TV)

渡辺和哉

(読売広告社)

Kazuya Watanabe

(Yomiko Advertising, Inc.)

森下孝三

Kōzō Morishita

プロデューサー

Producer

野﨑 理

(フジテレビ)

Osamu Nozaki

(Fuji TV)

佐川直子

(読売広告社)

Naoko Sagawa

(Yomiko Advertising, Inc.)

木戸 睦

Atsushi Kido

高見 暁

Satoru Takami

音楽

Music

住友紀人

Norihito Sumitomo

オープニングテーマ

Opening Theme

作詞

Lyrics

作曲

Composition

唄

Vocals

「超絶☆ダイナミック!」

"Chōzetsu ☆ Dynamic!"

森 雪之丞

Yukinojō Mori

吉井和哉

Kazuya Yoshii

吉井和哉

Kazuya Yoshii

(日本コロムビア/トライアド)

(Nippon Columbia / Triad)

製作担当

Production Manager

末竹 憲

Ken Suetake

美術デザイン

Art Design

行 信三

Shinzō Yuki

色彩設計

Color Design

加藤良高

Yoshitaka Katō

キャラクターデザイン・作画監修

Character Design & Supervising
Director of Animation

山室直儀

Tadayoshi Yamamuro


シリーズディレクター

Series Director

畑野森生

Morio Hatano

制作協力

Production Coordination

東映

Toei

制作

Production

フジテレビ

Fuji TV

読売広告社

Yomiko Advertising, Inc.

東映アニメーション

Toei Animation
Ending Credits
脚本

Script

冨岡淳広

Atsuhiro Tomioka

声の出演

Voice Performances

~~~~

協力

In Cooperation With

青二プロダクション

Aoni Production

原画

Key Animation

舘 直樹

Naoki Tate

直井正博

Masahiro Naoi

信実節子

Setsuko Nobuzane

浅沼昭弘

Akihiro Asanuma

安田陽子

Yōko Yasuda

涂 泳策

Yong-ce Tu

星野 守

Mamoru Hoshino

村 俊太郎

Shuntarō Mura

石川 修

Osamu Ishikawa

永樹龍博

Tatsuhiro Nagaki

横山美雪

Miyuki Yokoyama

 

OP作画監督

Opening Animation Supervisor

山室直儀

Tadayoshi Yamamuro

OP原画

Opening Key Animation

山室直儀

Tadayoshi Yamamuro

濱野裕一

Yūichi Hamano

動画

In-Between Animation

Toei Phils.

Toei Animation Philippines

武遊

Buyū

A-Line

A-Line

彩色

Digital Coloring

Toei Phils.

Toei Animation Philippines

武遊

Buyū

A-Line

A-Line

色指定

Color Designation

加藤良高

Yoshitaka Katō

デジタル特殊効果

Digital Special Effects

下川信裕

Nobuhiro Shimokawa

デジタルアーティスト

Digital Artist

川崎健太郎

Kentarō Kawasaki

背景

Backgrounds

徳重 賢

Ken Tokushige

井芹達朗

Tatsurō Iseri

マジックハウス

Magic House

吉田智子

Tomoko Yoshida

Toei Phils.

Toei Animation Philippines

安積裕子

Yūko Azumi

ルーベン・オレンセ

Ruben Orense

デジタル撮影

Digital Photography

AMGA

AMGA

競 昌則

Masanori Kisoi

服部 安

Yasushi Hattori

平井智朗

Tomoaki Hirai

岡田由紀

Yuki Okada

西 重成

Shigenari Nishi

杉浦仙一

Sen'ichi Sugiura

姜 亜偉

Ai Kyō

エンディングテーマ

Ending Theme

作詞

Lyrics

作曲

Composition

編曲

Arrangement

唄

Vocals

「Forever Dreaming」

"Forever Dreaming"

武井優心

Masmi Takei

武井優心

Masmi Takei

Czecho No Republic

Czecho No Republic

Czecho No Republic

Czecho No Republic

(日本コロムビア/トライアド)

(Nippon Columbia / Triad)

音響監督

Audio Director

本田保則

Yasunori Honda

編集

Editing

西村英一

Ei'ichi Nishimura

録音

Recording

伊東光晴

Mitsuharu Itō

録音助手

Recording Assistance

新垣未希

Miki Aragaki

音響効果

Sound Effects

西村睦弘

(JetSoundEngine)

Mutsuhiro Nishimura

(JetSoundEngine)

記録

Documentation

沢井尚子

Shōko Sawai

アシスタントプロデューサー

Assistant Producer

静 美保

(読売広告社)

Miho Shizuka

(Yomiko Advertising, Inc.)

音響製作

Audio Production

タバック

TAVAC

録音スタジオ

Recording Studio

サウンドイン

Sound Inn

東映デジタルセンター

Toei Digital Center

オンライン編集

Online Editing

東映デジタルラボ

Toei Digital Lab

長澤亮祐

Ryōsuke Nagasawa

音楽協力

Music In Association With

東映アニメーション音楽出版

Toei Animation Music Publishing

フジパシフィックミュージック

FUJIPACIFIC MUSIC

企画協力

Planning In Cooperation With

集英社「Vジャンプ」編集部

Shueisha's "V-Jump" Editorial Department

演出助手

Assistant Director

川崎弘二

Kōji Kawasaki

製作進行

Assistant Production Manager

澤守 洸

Kō Sawamori

美術進行

Art Manager

西牧正人

Masato Nishimaki

仕上進行

Finishing Manager

河本隆弘

Takahiro Kawamoto

CG進行

CG Manager

渡辺克博

Katsuhiro Watanabe

演技事務

Talent Coordination

角 康昭

Yasuaki Tsuno

広報

Public Relations

清田美智子

(フジテレビ)

Michiko Kiyota

(Fuji TV)

データ放送

Datacasting

腰塚 悠

(フジテレビ)

Yū Koshitsuka

(Fuji TV)

美術

Art Director

佐藤美幸

Miyuki Satō

総作画監督

Chief Animation Supervisor

井手武生

Takeo Ide

作画監督

Animation Supervisor

舘 直樹

Naoki Tate

石川 修

Osamu Ishikawa

絵コンテ

Storyboard

角銅博之

Hiroyuki Kakudō

演出

Director

羽多野浩平

Kōhei Hatano