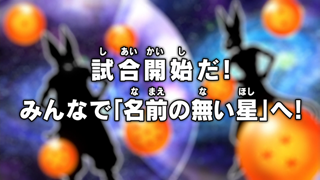 試合開始だ!みんなで「名前の無い星」へ!
Shiaikaishi da! Min'na de "Namae no Nai Hoshi" e!
The Matches Begin! Everyone Head to the "Nameless Planet"!
Episode Information
Episode Summary
In the refurbished Room of Spirit and Time, Goku and Vegeta wrap up a sparring session. Goku tells Vegeta that fighting with him helps him see what his shortcomings are, and Vegeta thinks to himself that he feels the same way. Goku wonders what "Monaka" is like, but Vegeta points out Monaka is on their side, so Goku should instead focus on their Universe 6 opponents. Since Beerus went through all the trouble of preparing Monaka as their team's trump card, the Universe 6 fighters must definitely be strong. When Goku gets a little too excited at the thought of meeting six super-strong people, Vegeta tells him to act his age. "But you said Saiyans stay young until they hit 80!" Vegeta explains that he meant Goku needs to grow up emotionally. With that, the two start another round of sparing.
The day of the tournament, Whis arrives at Capsule Corporation to pick everyone up. He instructs them to enter a large transparent cube. Trunks asks if this thing is really a spaceship, but Whis maintains it is simply a "cube", not a spaceship. Though it has no doors, Whis tells everyone to push through the walls, and sure enough, everyone is able to pass straight through as if they were liquid. He says it will take three hours to travel from Earth to Beerus' planet, so everyone who needs to use the restrooms had better do so now. Goku and Vegeta still have not appeared, and Bulma assumes they are still in the Room of Spirit and Time. Jaco turns up, having brought the Galactic King with him. At first, Bulma assumes the king is Jaco's new girlfriend. The king is surprised everyone is so nonchalant about his presence, but Jaco explains they are all used to dealing with Kaiōshin and Gods of Destruction, so a Galactic King probably is not too big of a deal to them.
Finally, Goku and Vegeta turn up… with beards! They had the time difference a bit wrong, but thanks to that they were able to train that much longer. Kuririn is late too, having apparently been on the toilet. Everyone gets into the Cube, which takes off into space. With everyone crowded inside the small vessel, Boo promptly farts. Goten complains, but Satan jokes that this "truly is Majin Boo" (a joke on how buu is the Japanese sound effect for a fart, a connection joked about in the main series a few times as well).
On Beerus' planet, Jaco happily takes photos of the local fish. Whis is fine with people taking photos, but asks them not to post them online, since this location is supposed to be secret. Beerus comes out, bringing Monaka with him. Though Monaka is small and unimpressive-looking, Piccolo and Vegeta realize this probably means it is best not to underestimate him. Goku strikes up a conversation with Monaka, much to Beerus' annoyance. Whis had told him the name "Monaka" means "Big Ponta", but what exactly is a "Ponta"? Monaka explains that it simply means "nipples" and he got his name due to his large nipples. Goku is not sure how to react to this information, but asks Monaka if they can spar a little bit. Beerus objects, saying they need to focus on their upcoming matches… but Goku cannot resist sucker-punching Monaka square in the face. To Goku's surprise, the attack connects (he had assumed Monaka would dodge it), and Monaka seems genuinely hurt.
As the Cube now heads to the tournament grounds on the Nameless Planet, the gang samples Chi-Chi's cooking. Vegeta cannot wait to have his first decent meal in three years (due to his training inside the Room of Spirit and Time), but Monaka is not eating at all. Goku asks him about this, and Monaka explains that he does not eat much meat. This surprises Goku, who wonders if Monaka is trying to keep in shape. As the ship reaches its destination, the Super Dragon Balls come into view. They really are planet-sized! Everyone is amazed. Seeing the tournament grounds for the first time, Piccolo is impressed that they built such an elaborate compound for a one-time event. Did Champa build it all himself? Beerus says that Gods of Destruction do not create things… besides, if Champa had made it, it would look a lot tackier.
Champa overhears this remark and takes offense, but he is impressed Beerus was brave enough to show up. Beerus accuses Champa of sneaking into Universe 7 to collect the Super Dragon Balls, but says he will forgive him, since they are brothers. Besides, all the balls will be his soon anyway. Vados shows everyone the seating, but Trunks and Bulma are not satisfied. They came all this way, and these are the seats they get? Whis agrees, and uses his powers to instantly create better seats. Champa asks why Vados did not just make those kinds of stylish seats to begin with, but she explains that "making art the master doesn't understand insults the master" (implying anything too stylish would have gone over Champa's head).
Kaiōshin and Kibito arrive and greet Goku. Though normally fusing with the Potara is supposed to be permanent, it turns out they used the Namekian Dragon Balls to separate back into two people again (because being fused together "just didn't feel right"), which is why Goku could not locate their ki the other day. Elder Kaiōshin is there too, along with two similar-looking figures who Goku surmises must be the Kaiōshin of Universe 6. These Universe 6 Kaiōshin are surprised at how casually Goku talks with gods, and ask Elder Kaiōshin if he is friends with him; Elder Kaiōshin replies that they have been through a lot together.
Next the Universe 6 fighters enter. One looks like a robot, one looks like a bear, and one… looks like Freeza! A short, human-looking fighter approaches Goku and Vegeta, asking if they are Saiyans. When they say yes, he reveals that he is a Saiyan as well. Shocked, Vegeta asks what happened to his tail, and notes that his clothes resemble what the Saiyans wore before they became a part of Freeza's army. However, the other Saiyan is completely ignorant both of tails and Freeza. Vegeta next asks which planet the Saiyans of Universe 6 are based out of, and he says Planet Sadal. Vegeta is shocked even more: Planet Sadal still exists in Universe 6? Vegeta explains that in Universe 7, Planet Sadal was destroyed by Saiyan in-fighting, so the Saiyans stole another planet, which became Planet Vegeta. The Saiyan is shocked that the Saiyans of Universe 7 steal planets. Vegeta finds this perfectly natural; after all, the Saiyans are a warrior race… However, the other Saiyan thinks this is precisely why they should not be stealing planets. In Universe 6, the Saiyans' main job is being hired out to defeat evil-doers. Goku's impressed, saying that they are good guys, and Vegeta notes how different the two universes are.
Vados announces the start of the written test. Before going off, Vegeta says he would like to visit Planet Sadal someday if he gets the chance, and assures the other Saiyan that the Universe 7 Saiyans do not steal planets anymore. The Saiyan says that Vegeta is always welcome to come… but he will not hold back in the ring. At the test site, Vados explains that the test consists of ten simple questions to determine if someone has even the slightest amount of intelligence. They have ten minutes to complete the test, and a score of 50 points or higher is needed to pass. Goku has trouble with some basic math questions, and Vados warns him to keep quiet. Sadly, Boo fails to pass the test. Vegeta is aghast: this means they are down to only four fighters, right off the bat! This is precisely why he was against them picking Boo as a teammate… but Goku notes that the written test was Vegeta's idea. Beerus is frustrated, but says they will just have to fight that much harder.
With the written test out of the way, next they must decide the fighting order. Beerus says that since Monaka is strongest, he will be saved for last. The rest of the order will be decided by rock-paper-scissors. With the audience all seated, the tournament announcer says the tournament will begin with a performance of the "universal anthem". A small, penguin-like alien takes the stage, and in a deep voice sings "The universe is vast!" This, it turns out, is the entire "anthem". Now the tournament can begin! For the first match, Botamo from Universe 6 shall face off against… Goku!










Next Time:


"Be Surprised, Universe 6! This is Super Saiyan Son Goku!"
Episode Notes
The Galactic King was originally introduced in 2013 in chapter two of Jaco the Galactic Patrolman, a standalone prequel to Dragon Ball by Akira Toriyama.
Though the five Universe 6 competitors and their names were formally unveiled by Toei, only Botamo is actually referred to by name in this particular episode. While the Saiyan from Universe 6 speaks with Vegeta and Goku, he never introduces himself by name. This is similar to his introduction in chapter 7 of Toyotarō's manga, but he is credited in the episode as "Cabba".
Yasunori Masutani revealed via his Twitter account that in addition to voicing the tournament's anthem singer, he also provided the voice of the Universe 6 Kaiōshin, which was not credited in the episode. Also uncredited in the episode is the Kaiōshin's attendant, who is voiced by Kazunari Tanaka.
Botamo's name is likely taken from taken from the Japanese confectionery botamochi.

ぼたもち (bo·ta·mo·chi) › ボタモ (bo·ta·mo)

Planet Sadal's name (惑星サダラ wakusei sadara) is a rearrangement of the English word "salad", with the last two syllables swapped. With the Saiyan race all taking their names from vegetables, an all-encompassing dish such as a salad is an appropriate choice to "hold" all of the "vegetable" people. It should also be noted that in chapter 8 of Toyotarō's manga, the planet's name was written directly as the word "salad".

サラダ (sa·ra·da) › サダラ (sa·da·ra)

Though the Tsufruians were never mentioned or included in Akira Toriyama's original manga, their concept did originate with Toriyama, which was instead used as filler material in Dragon Ball Z TV episode 20 and anime/game-only material such as Dragon Ball GT and Plan to Eradicate the Saiyans. In addition, the name "Planet Plant" is also included in a memo from Toriyama, which ultimately became the original name of the planet inhabited by the Tsufruians and Saiyans before the Saiyans eventually took over. The information introduced about the Saiyans in this episode fits in with the information previously introduced in this supplemental material, allowing the Saiyans to have originated on some planet prior to their arrival on Planet Plant.
Episode Credits
All credits listed below are as originally presented in the episode. The credit structure used in Dragon Ball Super is actually quite simple; the staff involved with the production of the series as a whole are listed in the opening credits and the staff involved with this specific episode are listed in the ending credits. All original credit errors have been corrected to maintain accurate spellings throughout the site. For more information and a complete listing of the series staff, visit the Production Guide.
Cast Credits
孫悟空

Son Goku

孫悟天

Son Goten

野沢雅子

Masako Nozawa

 

ブルマ

Bulma

鶴 ひろみ

Hiromi Tsuru

ベジータ

Vegeta

堀川りょう

Ryō Horikawa

クリリン

Kuririn

田中真弓

Mayumi Tanaka

ピッコロ

Piccolo

古川登志夫

Toshio Furukawa

トランクス

Trunks

草尾 毅

Takeshi Kusao

チチ

Chi-Chi

渡辺菜生子

Naoko Watanabe

ウーロン

Oolong

龍田直樹

Naoki Tatsuta

ミスターサタン

Mister Satan

石塚運昇

Unshō Ishizuka

魔人ブウ

Majin Boo

塩屋浩三

Kōzō Shioya

ビルス

Beerus

山寺宏一

Kōichi Yamadera

ウイス

Whis

森田成一

Masakazu Morita

シャンパ

Champa

岩田光央

Mitsuo Iwata

ヴァドス

Vados

山口由里子

Yuriko Yamaguchi

ジャコ

Jaco

花江夏樹

Natsuki Hanae

老界王神

Elder Kaiōshin

田中亮一

Ryōichi Tanaka

シン

Shin

太田真一郎

Shin'ichirō Ōta

キビト

Kibito

青森 伸

Shin Aomori

モナカ

Monaka

菊池正美

Masami Kikuchi

キャベ

Cabba

岸尾だいすけ

Daisuke Kishio

ボタモ

Botamo

高戸靖広

Yasuhiro Takato

レフェリー

Referee

田中一成

Kazunari Tanaka

銀河王

Galactic King

魚 建

Ken Uo

歌手

Singer

増谷康紀

Yasunori Masutani
Opening Credits
原作・ストーリー原案・キャラクター原案

Original Author / Story Draft / Character Drafts

鳥山 明

(集英社「ジャンプコミックス」刊)

Akira Toriyama

(Published in Shueisha's "Jump Comics")

企画

Planning

情野誠人

(フジテレビ)

Masato Seino

(Fuji TV)

渡辺和哉

(読売広告社)

Kazuya Watanabe

(Yomiko Advertising, Inc.)

森下孝三

Kōzō Morishita

プロデューサー

Producer

野﨑 理

(フジテレビ)

Osamu Nozaki

(Fuji TV)

佐川直子

(読売広告社)

Naoko Sagawa

(Yomiko Advertising, Inc.)

木戸 睦

Atsushi Kido

寺本知資

Tomosuke Teramoto

音楽

Music

住友紀人

Norihito Sumitomo

オープニングテーマ

Opening Theme

作詞

Lyrics

作曲

Composition

唄

Vocals

「超絶☆ダイナミック!」

"Chōzetsu ☆ Dynamic!"

森 雪之丞

Yukinojō Mori

吉井和哉

Kazuya Yoshii

吉井和哉

Kazuya Yoshii

(日本コロムビア/トライアド)

(Nippon Columbia / Triad)

製作担当

Production Manager

末竹 憲

Ken Suetake

美術デザイン

Art Design

行 信三

Shinzō Yuki

色彩設計

Color Design

堀田哲平

Teppei Hotta

キャラクターデザイン・作画監修

Character Design & Supervising
Director of Animation

山室直儀

Tadayoshi Yamamuro


シリーズディレクター

Series Director

地岡公俊

Kimitoshi Chioka

制作協力

Production Coordination

東映

Toei

制作

Production

フジテレビ

Fuji TV

読売広告社

Yomiko Advertising, Inc.

東映アニメーション

Toei Animation
Ending Credits
脚本

Script

キング・リュウ

King Ryū

声の出演

Voice Performances

~~~~

協力

In Cooperation With

青二プロダクション

Aoni Production

原画

Key Animation

舘 直樹

Naoki Tate

坂井寛幸

Hiroyuki Sakai

加藤義貴

Yoshitaka Katō

八木元喜

Motoki Yagi

辻 美也子

Miyako Tsuji

森中正春

Masaharu Morinaka

会津五月

Satsuki Aizu

Toei Phils.

Toei Animation Philippines

二階堂渥志

Atsushi Nikaidō

小酒井智也

Tomoya Kosakai

永樹龍博

Tatsuhiro Nagaki

手塚江美

Emi Tezuka

堀井伸雄

Nobuo Horii

 

ミュウ

Myū

 

OP作画監督

Opening Animation Supervisor

山室直儀

Tadayoshi Yamamuro

OP原画

Opening Key Animation

大塚 健

Ken Ōtsuka

岡 辰也

Tatsuya Oka

動画

In-Between Animation

Toei Phils.

Toei Animation Philippines

武遊

Buyū

ミュウ

Myū

彩色

Digital Coloring

Toei Phils.

Toei Animation Philippines

武遊

Buyū

ミュウ

Myū

色指定

Color Designation

加藤良高

Yoshitaka Katō

デジタル特殊効果

Digital Special Effects

下川信裕

Nobuhiro Shimokawa

デジタルアーティスト

Digital Artist

川崎健太郎

Kentarō Kawasaki

松本八希

Hakki Matsumoto

背景

Backgrounds

アテネアートスタジオ

Athens Art Studio

斉藤信二

Shinji Saito

木下千春

Chiharu Kinoshita

山本真生

Mao Yamamoto

大谷正信

Masanobu Ōtani

赤保谷則子

Noriko Akahoya

勝又アイ子

Aiko Katsumata

デジタル撮影

Digital Photography

AMGA

AMGA

競 昌則

Masanori Kisoi

服部 安

Yasushi Hattori

平井智朗

Tomoaki Hirai

姜 亜偉

Ai Kyō

岡田由紀

Yuki Okada

西 重成

Shigenari Nishi

杉浦仙一

Sen'ichi Sugiura

茂木邦夫

Kunio Mogi

 

エンディングテーマ

Ending Theme

作詞

Lyrics

作曲

Composition

編曲

Arrangement

唄

Vocals

「薄紅」

"Light Pink"

松川ケイスケ

Keisuke Matsukawa

LACCO TOWER

LACCO TOWER

LACCO TOWER

LACCO TOWER

LACCO TOWER

LACCO TOWER

(日本コロムビア/トライアド)

(Nippon Columbia / Triad)

音響監督

Audio Director

本田保則

Yasunori Honda

編集

Editing

西村英一

Ei'ichi Nishimura

録音

Recording

伊東光晴

Mitsuharu Itō

録音助手

Recording Assistance

新垣未希

Miki Aragaki

音響効果

Sound Effects

西村睦弘

(JetSoundEngine)

Mutsuhiro Nishimura

(JetSoundEngine)

記録

Documentation

沢井尚子

Shōko Sawai

アシスタントプロデューサー

Assistant Producer

静 美保

(読売広告社)

Miho Shizuka

(Yomiko Advertising, Inc.)

音響製作

Audio Production

タバック

TAVAC

録音スタジオ

Recording Studio

サウンドイン

Sound Inn

東映デジタルセンター

Toei Digital Center

オンライン編集

Online Editing

東映デジタルラボ

Toei Digital Lab

長澤亮祐

Ryōsuke Nagasawa

音楽協力

Music In Association With

東映アニメーション音楽出版

Toei Animation Music Publishing

フジパシフィックミュージック

FUJIPACIFIC MUSIC

企画協力

Planning In Cooperation With

集英社「Vジャンプ」編集部

Shueisha's "V-Jump" Editorial Department

演出助手

Assistant Director

佐藤雅教

Masanori Satō

製作進行

Assistant Production Manager

小林克規

Katsunori Kobayashi

美術進行

Art Manager

西牧正人

Masato Nishimaki

仕上進行

Finishing Manager

河本隆弘

Takahiro Kawamoto

CG進行

CG Manager

渡辺克博

Katsuhiro Watanabe

演技事務

Talent Coordination

角 康昭

Yasuaki Tsuno

広報

Public Relations

山本麻未子

(フジテレビ)

Mamiko Yamamoto

(Fuji TV)

美術

Art Director

杦浦正一郎

Sei'ichiro Sugiura

斉藤信二

Shinji Saito

総作画監督

Chief Animation Supervisor

辻 美也子

Miyako Tsuji

作画監督

Animation Supervisor

舘 直樹

Naoki Tate

加野 晃

Akira Kano

篁 馨

Kaori Takamura

演出

Director

佐藤雅教

Masanori Satō