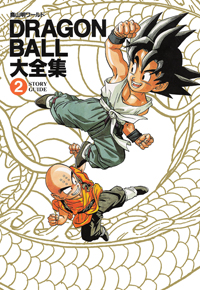 Databook Information
| | |
| --- | --- |
| Released: | 04 August 1995 |
| Retail: | ¥1,800 (tax included) |
| Publisher: | Shueisha Inc. |
| Size / Pages: | JIS B5 (18.2 × 25.7 cm) / 265 pages |
| Catalog No.: | ISBN 4-08-782752-6 |
Databook Contents
The second daizenshuu covers the manga story aspects of Dragon Ball, and in turn the majority of this guide is dedicated to simply summarizing the events of each tankōbon volume. There's also a lot information organized in useful ways throughout the guide, such as providing 'personal histories' that show the various character ages, forms, and the interaction of the characters throughout the course of the series. Included before the table of contents is an introduction message from Akira Toriyama and the guides title page, which features the illustration from 1993 WJ #33. The book also features a beautiful foldout poster of the guides respective cover image drawn by Akira Toriyama. On the opposite side of the poster is a character correlation diagram that links all of the main characters back to Son Goku and to each other.
Toriyama's Introduction (read translation)
013

Chapter 001 – Bulma and Son Goku

015

A great way to start the daizenshuu – the entire first chapter of Dragon Ball was reprinted in full color! This was actually the first time this chapter was available in full color since it was first published in Weekly Shōnen Jump 10 years earlier. This reprinted version was roughly the same size it was printed in Weekly Jump, which was much larger than the tankōbon release.

Before Dragon Ball

046, 090

A nice little section that's divided up into two parts which showcases Toriyama's early ideas for Dragon Ball. It displays most of his original concepts, and ideas such as Dragon Boy, Tonpū's Big Adventure, and some interesting conceptual drawings.

Adventure History

047

This section provides a recap of the entire manga series, listing one tankōbon volume per page with their respective chapters. Each volume cover is displayed, along with its title, main events, and general synopsis. Each chapter also has a very brief description, highlighting the main events of the chapter.

Original Color Works

091, 155

Another section that has been divided up into two parts, it showcases all of the beautiful color manga pages originally drawn by Akira Toriyama for publication in Weekly Shōnen Jump. Unfortunately, the majority of them are not printed in their full size, but are instead shrunk down to display more per page. However, all of these original colored pages have now been reprinted in the kanzenban releases.

Personal History

107

Chronological Table of Characters

108

This is a table that displays 28 of the series' main characters and in which tankōbon volumes they appear. It really does make it quite clear just how many minor characters sort of, drop off the map.

Growing Up

110

A listing of some of the series' main characters and how they've grown throughout the manga. These characters include Son Goku, Son Gohan, Son Goten, Trunks (young & old), Piccolo, Vegeta, Bulma, Kuririn, Yamcha, Kame-Sen'nin, Tenshinhan, Chiaotzu, Chi-Chi, Gyūmaō, Mister Satan, and Videl.

Human Drama

134

Following suit with the previous sections, this one also pertains to the main characters, listing each of their various relationships and interactions with the other characters throughout the series.

Sub Characters

171

After focusing so much on the main character, there's finally something concerning the supporting characters of the series. This section provides some brief character information for many of these minor characters, along with some of their contributions to the manga.

Battle History

177

Chronological Table of Battles

178

As the title states, this is a chronological table of battles. It focuses on the major battles seen throughout the Dragon Ball manga, including who wins, who loses, or whether it was a draw.

Final Battle

180

This provides us with an in-depth look at the seven big battles seen in Dragon Ball — Piccolo Daimaō, Ma Junior, Raditz, Vegeta, Freeza, Cell, and Majin Boo. Each battle is split up into different acts, and lists some additional information, such as a list of the participants and corresponding chapters to certain events within the battle.

Special Attacks

202

An in-depth guide to some of the major techniques used throughout the manga. However, since this guide is so specific it does ommit the majority of the series' techniques, but fortunately Daizenshuu 7 includes those.

All Battles

218

This is a list of all 187 battles that take place in the manga. Each battle lists the winner, the tankōbon volume and chapter it can be found in, and a short synopsis of the battle.

Chapter 519 – Bye Bye Dragon World

243

A fitting way to end the daizenshuu, they have provided an entire reprint of the final chapter of Dragon Ball. Interestingly, this reprinting was published a little less than three months after the chapter had premiered in Weekly Shōnen Jump and almost two months prior to it being printed in tankōbon form.

Akira Toriyama Super Interview (read translation)
261

This is a four page interview with Akira Toriyama from 23 May 1995 at the Rougairou Restaurant (Chinese) in Tsukuba, Ibaraki, Japan. In the interview Toriyama discusses the story of Dragon Ball, including the influence of the Chinese tale Journey to the West, the introduction of the Tenka'ichi Budōkai, his development of the story, and the escalation of the enemy characters.
Shenlong Times Bonus Insert Pamphlet
As a special bonus for buying the daizenshuu, Shueisha included a small newspaper type pamphlet called the "Shenlong Times". Within each of these 8-page pamphlets, there were interviews with staff members involved with Dragon Ball, Akira Toriyama, and fans from Japan. In the center of each pamphlet there was usually a short comic drawn by Toriyama detailing part of his life following the completion of series, or a tribute to Dragon Ball by other artists, similar to what was done with the kanzenban. Also in each pamphlet is a "Dragon Ball News" section that showcased "new" and upcoming Dragon Ball merchandise. There's also a section called "I Love Dragon Ball", in which famous people from Japan (or China), who love Dragon Ball are interviewed.
Past Editors (+ Toriyama) Round-Table Discussion — 2nd Round
— Kazuhiko Torishima (First Editor)
— Yū Kondō (Second Editor)
— Fuyuto Takeda (Third Editor)
— Akira Toriyama (Original Author)
Akira Toriyama's "Me These Days"
I Love Dragon Ball #2
— Shingo Katori-san (SMAP)
Dragon Ball News #2
— Latest editions of "Dragon Ball" plush toys to appear in crane games.
— Game Boy's Latest "Goku's Legendary Fierce Fighting" (On Sale in Late August)
— "The World of Akira Toriyama" Exhibit (Currently on Display)
— Dragon Ball Comics Vol. 1 to 42 (On Sale Now)
— Daizenshuu 3 (On Sale 04 September)



Databook Staff Credits
It should be noted that although Akira Toriyama is listed as the author of this databook, he actually had very little involvement with the production of its content, if any at all. Toriyama makes it quite clear in most of his daizenshuu introductions that "they" (Shueisha) are responsible for putting these together, and he is often graciously humble in thanking them for all their hard work in sorting through his exhaustive series.
構成

Organization

キャラメル・ママ

Caramel Mama

アートディレクター

Art Director

田熊樹美

(フライハイト)

Jumi Takuma

(Freiheit)

著者

Author

鳥山 明

Akira Toriyama

発行人

Publisher

坂口紀和

Norikazu Sakaguchi

編集人

Editor

渡辺彰則

Akinori Watanabe

発行所

Publishing House

株式会社集英社

Shueisha Inc.

印刷所

Printing House

大日本印刷株式会社

Dai Nippon Printing Co., Ltd.