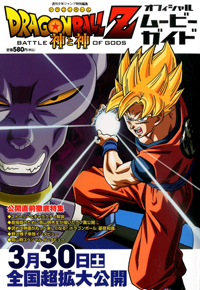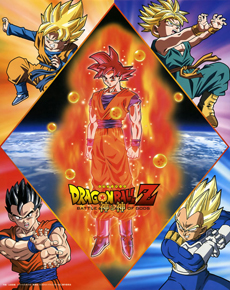 Databook Information
| | |
| --- | --- |
| Released: | 21 March 2013 |
| Retail: | ¥580 (tax included) |
| Publisher: | Shueisha Inc. |
| Size / Pages: | JIS B5 (18.2 × 25.7 cm) / 46 pages |
| Catalog No.: | JAN 4910299390439 |
| Availability: | CDJapan | Amazon Japan |
Databook Contents
Just prior to the premiere of Dragon Ball Z: Battle of Gods, the franchise's first theatrical film in 17 years, Shueisha released an official movie guide. The guide was published as a "Special Edition" of Weekly Shōnen Jump with an effective publication date of 30 April 2013. The cover and insert poster illustrations were drawn by Tadayoshi Yamamuro, the movie's animation supervisor. The front side of the insert poster features the movie's main poster, while the back side contains a poster drawn exclusively for the guide featuring "Super Saiyan God".
Theatrical Version: Main Visual Poster

Guidebook-Exclusive Visual Poster

Movie Introduction

008

This brief introduction describes original author Akira Toriyama's involvement in the movie's initial development and the franchise's theatrical revival.

Story Digest

010

The story digest features numerous screen shots and quotes from the movie. The basic plot details are listed, but with no real in-depth detail, it does not spoil the movie's ending.

Movie Characters

014

This six-page section lists brief biographies of the movie's characters, along with their final theatrical character designs by animation supervisor Tadayoshi Yamamuro.

Background Gallery

020

A gallery of background art for Beerus' palace, Kaiō's planet, and Capsule Corporation as designed by art director Hiroshi Katō.

Akira Toriyama Art Works

022

The true artistic highlight of the guide is this gallery of Akira Toriyama's original character designs for the movie.

Basic Knowledge of Dragon Ball

024

This section answers some basic questions about the series; "What are the Dragon Balls?", "When does 'Battle of Gods' take place?", "Who are the Saiyans?", and "Who are the Pilaf Gang?". It also contains a relationship chart between Son Goku and friends, along with a brief look at the various locations seen throughout the series.

Dragon Ball Animation History

029

A brief recap of the franchise's lengthy animation history, beginning with the animated TV series Dragon Ball, Dragon Ball Z, Dragon Ball GT, and Dragon Ball Kai. It also lists the original 17 theatrical films and the three special animation features: Heya! Son Goku and Friends Return!!, Dragon Ball: Plan to Eradicate the Super Saiyans, and Dragon Ball: Episode of Bardock.

Masako Nozawa Interview (read translation)
034

The guide's featured cast interview is with none other than veteran voice actress Masako Nozawa, the voice of the movie's main protagonist Son Goku. In the interview she discusses her involvement with the franchise, the movie's recording sessions with the other cast members, and her thoughts on playing Goku on the big screen once again.

Main Cast Comment Collection (read translation)
037

This collection of brief five-to-seven question interviews includes Kōichi Yamadera (Beerus), Masakazu Morita (Whis), Masaharu Satō (Kame-Sen'nin), Hiromi Tsuru (Bulma), Mayumi Tanaka (Kuririn), Ryō Horikawa (Vegeta), Toshio Furukawa (Piccolo), Tōru Furuya (Yamcha), Hikaru Midorikawa (Tenshinhan), and Takeshi Kusao (Trunks). It also includes short interviews with guest cast members Kaori Matsumoto and Shōko Nakagawa, along with the band FLOW.

Director Masahiro Hosoda Interview (read translation)
041

A brief one-page interview with the movie's director Masahiro Hosoda, in which he discusses the movie's development and production, along with original author Akira Toriyama's involvement.

Main Staff Comment Collection (read translation)
042

The main staff commentary features a few questions with the movie's script writer Yūsuke Watanabe, animation supervisor Tadayoshi Yamamuro, art director Hiroshi Katō, and musical composer Norihito Sumitomo.

Akira Toriyama Special Interview (read translation)
043

The final interview in the guide is with original author Akira Toriyama, where he comments on his involvement with the movie's production, the two original characters Beerus and Whis, and the overall feel of the movie. The interview concludes with a special poster of the movie's main characters drawn by Akira Toriyama, which was also printed in the May 2013 issue of V-Jump.
Databook Staff Credits
カバーイラスト

Cover Illustration

山室直儀

Tadayoshi Yamamuro

構成・執筆

Organization & Writing

樹想社

Kisōsha

中嶋 竜

Ryū Nakajima

栩野葉子

Yōko Tochino

中村ちな美

Chinami Nakamura

松本光博

Mitsuhiro Matsumoto

望月 誠

Makoto Mochizuki

清水裕一

Yūichi Shimizu

 

アートディレクション&デザイン

Art Direction & Design

湯澤勇太

(Freiheit)

Yūta Yuzawa

(Freiheit)

デザイン

Design

Freiheit 

Freiheit

武藤多雄

Kazuo Mutō

原 武大

Takehiro Hara

山本優貴

Yūki Yamamoto

編集

Editing

中村 忍

Shinobu Nakamura

小野孝太郎

Kōtarō Ono

協力

Collaboration

青二プロ

Aoni Production

アズリードカンパニー

Aslead Company

東映

Toei

ハピネット

Happinet

アクロス エンタテインメント

Across Entertainment

オリガミクス・パートナーズ

Origamix Partners

東映アニメーション

Toei Animation

ワタナベエンターテインメント

Watanabe Entertainment

印刷所

Printing House

共同印刷株式会社

Kyodo Printing Co., Ltd.

編集人

Editor

茂木行雄

Yukio Mogi

発行人

Publisher

大門千春

Chiharu Daimon

発行所

Publishing House

集英社

Shueisha Inc.