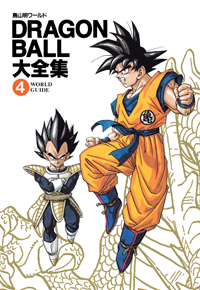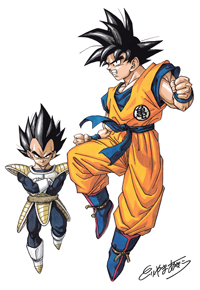 Databook Information
| | |
| --- | --- |
| Released: | 04 October 1995 |
| Retail: | ¥1,500 (tax included) |
| Publisher: | Shueisha Inc. |
| Size / Pages: | JIS B5 (18.2 × 25.7 cm) / 167 pages |
| Catalog No.: | ISBN 4-08-782754-2 |
Databook Contents
The fourth daizenshuu covers everything that has to do with the "Dragon World" that Akira Toriyama had created. This includes everything from outer space, to characters, to technology, and even the Dragon Balls themselves. Included before the table of contents is an introduction message from Akira Toriyama and the guides title page, which features the illustration from 1986 WJ #5. The book also features a beautiful foldout poster of the guides respective cover image drawn by Akira Toriyama. On the opposite side of the poster are countless rough sketches by Toriyama-sensei himself. These include sketches of North Kaiō, Mister Popo, Cell, teenage Son Gohan, Majin Boo, Super Saiyan 3 Son Goku, Mister Satan, and an outline of the Dragon World drawn as a reference for the anime staff.
Toriyama's Introduction (read translation)
013

World

015

Prologue

016

The world prologue contains full colored pages of the Dragon World. A couple pages showcase the Other World outline and the Heavens (North Kaiō's Planet, Kaiōshin's Planet, and Serpent Road), while the remaining pages look at the universe (Namek and Freeza's Planets) and the various sections of Earth (North, South, East, and West).

What Are the Dragon Balls?

030

In this section we get an in-depth look at the Dragon Balls and their properties. Such as, size difference, wish limitations, time between successive summonings, and wishes per summoning. It also provides information about both dragons (Shenlong and Porunga), their creators, and their individual limitations. A separate page displays a list of all 14 summonings along with all 22 wishes.

Racial Groups

037

Characteristics

040

This section showcases a thoroughly detailed look at the various races that appear within the Dragon World. The racial groups included are: Saiyans, Namekians, People of the Heavens, Freeza and his Followers, Bobbidi and his Followers, and Earthlings (Martial Artists, Humans, Animals, and Monsters). Each racial group is then broken down further, providing hierarchy details, race specific abilities, and background information.

Field

071

Places Besides the Earth

072

Even though the majority of Dragon Ball takes place on Earth, Akira Toriyama often turned to the rest of the universe for new enemies and inspiration. This two page spread shows the different locations throughout the universe and heavens. Each location's name is provided, along with a short description and any specific characters from that area.

The Earth

074

Akira Toriyama left nothing to the imagination and completely re-mapped the Earth in the Dragon World. This section takes a look at this map, which has been broken up into 12 areas (A-1 to C-4). Each area is given its own page which displays locations of major events, cities, landmarks, and characters that are associated with them.

Chapter 081 – Chased to Penguin Village!

091

It's always a special treat when you can read a Dragon Ball chapter in full color, which is exactly what we get! You have to remember that at the time this was released there wasn't even a thought about a kanzenban release, so no colored chapters were available unless you still had original copies of Weekly Shōnen Jump. This chapter showcased the intermingling of Toriyama's World between Dr. Slump and Dragon Ball. What could be better?

Grapple

107

Classification of Attacks

110

Though not a complete list of attacks, this categorizes certain attacks into three groups; mind power attacks, body attacks, and emergency attacks. These three groups are further divided into various sub-groups. It also provides brief descriptions of these attacks and lists who has used it.

Competition

118

If there was ever anything you wanted to know about the Tenka'ichi Budōkai, this is where you'll find it. The first page lists all the rules for both the preliminary rounds and the final rounds. Following that, each individual Budōkai is given its own page with a thorough breakdown of each fight. It also lists the number of participants, the champion, and the most dramatic event of the tournament.

Machines

125

Blueprint of Functional Machines

126

This section provides classification of all machines used in the Dragon World. The categories include cars, air cars, bikes, air bikes, planes, anti-gravitational aircraft, boats, submarines, spaceships, alien spaceships, and time machines. Each machine has a brief description, along with Toriyama-sensei's own comments about each machine. We're also given a list of all four vehicles that Akira Toriyama used in the manga that actually exist in the real world. Though it doesn't quite fit, we're given a special look at Mister Popo's Magic Carpet and Kinto-Un in the "Wonder Selection".

Technology

145

Technology & Supernatural

148

This section opens with a nice circular table of the different types of technology found in the Dragon World. The main categories include Bulma's Inventions, Dr. Brief's Inventions, Scientific Items, Weapons, Defensive Gear, Robots, Androids, and Supernatural Items. Some categories are further divided into sub-groups and each item is accompanied by a full description and a note of the different times they're used within the series.

Akira Toriyama Super Interview (read translation)
164

This is a five page interview with Akira Toriyama on 24 July 1995 at the Kanazawa City Sight-Seeing Hall in Kanazawa, Ishikawa, Japan. In the interview Toriyama discusses the world of Dragon Ball, including the difference between the Earth in Dragon Ball and the real Earth, the scenery for battle scenes, the names of special techniques, and his making of the complete world map.

Akira Toriyama's Best (read translation)

These pages include fun Q&A's with Akira Toriyama about different aspects of the series. Some questions include; "If he could be reincarnated as a character, who would it be? (Trunks)"; "What is your favorite technique? (Bukūjutsu)"; "What is your favorite place/location? (Karin's Tower)"; "If you could take one thing from the Dragon Ball world, what would it be? (Hoi Poi Capsules)"; "Which artifical human design was your favorite? (Cell, 2nd Form)".
Shenlong Times Bonus Insert Pamphlet
As a special bonus for buying the daizenshuu, Shueisha included a small newspaper type pamphlet called the "Shenlong Times". Within each of these 8-page pamphlets, there were interviews with staff members involved with Dragon Ball, Akira Toriyama, and fans from Japan. In the center of each pamphlet there was usually a short comic drawn by Toriyama detailing part of his life following the completion of series, or a tribute to Dragon Ball by other artists, similar to what was done with the kanzenban. Also in each pamphlet is a "Dragon Ball News" section that showcased "new" and upcoming Dragon Ball merchandise. There's also a section called "I Love Dragon Ball", in which famous people from Japan (or China), who love Dragon Ball are interviewed.
Shenlong Times Contents
Dragon Ball Fans Roundtable
— Toshihiro Suzuki (Bandai's Media Division)
— Emi Tōnosu (3rd Place Tenka'ichi Test Winner)
— Hokoto Masumoto (2nd Place Tenka'ichi Test Winner)
Akira Toriyama's "Me These Days"
I Love Dragon Ball #4
— Momoko Sakura-san (Manga Artist, Chibi Maruko-chan)
Dragon Ball News #4
— Carddass Part 24 (Available Now)
— Sega Saturn's Latest "Shin Butōden" (On Sale in November)
— The very popular Daizenshuu 1-3 (Available Now)
— Daizenshuu 5 (On Sale November 4th)



Databook Staff Credits
It should be noted that although Akira Toriyama is listed as the author of this databook, he actually had very little involvement with the production of its content, if any at all. Toriyama makes it quite clear in most of his daizenshuu introductions that "they" (Shueisha) are responsible for putting these together, and he is often graciously humble in thanking them for all their hard work in sorting through his exhaustive series.
構成

Organization

キャラメル・ママ

Caramel Mama

アートディレクター

Art Director

田熊樹美

(フライハイト)

Jumi Takuma

(Freiheit)

著者

Author

鳥山 明

Akira Toriyama

発行人

Publisher

坂口紀和

Norikazu Sakaguchi

編集人

Editor

渡辺彰則

Akinori Watanabe

発行所

Publishing House

株式会社 集英社

Shueisha Inc.

印刷所

Printing House

大日本印刷株式会社

Dai Nippon Printing Co., Ltd.