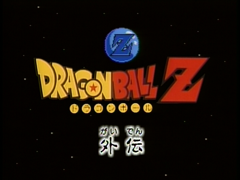 ドラゴンボールZ 外伝 サイヤ人絶滅計画
Doragon Bōru Zetto Gaiden Saiya-jin Zetsumetsu Keikaku
Dragon Ball Z Side-Story: Plan to Eradicate the Saiyans
Feature Information
Released:
23 July 1993 (Part 1) / 25 August 1993 (Part 2)
Running Time:
Approximately 60 minutes

---

Availability:
Official Visual Guide – Dragon Ball Z Side-Story: Plan to Eradicate the Saiyans – Part 1 (23 July 1993; VHS)
Official Visual Guide – Dragon Ball Z Side-Story: Plan to Eradicate the Saiyans – Part 2 (25 August 1993; VHS)
Dragon Ball Z DVD Box – Dragon Box Z Volume 2; Disc #26 (18 September 2003)
Feature Synopsis
This feature is a "Visual Guide" for the Nintendo Famicom (NES) game Gaiden: Saiya-jin Zetsumetsu Keikaku. The animated material used to create these guides utilized stock footage taken straight from the video game and can be more-or-less considered a "strategy guide" for the game. They showcased the correct paths to take (including brief cut-aways to the actual Famicom game's map screen), techniques to use, and order of events to play through. As this material was originally divided up and released on two VHS tapes, it is therefore presented below as two separate parts ("Part 1" and "Part 2").
Part 1 (
上巻

; Jōkan)

The feature begins with a mysterious, shadowy figure huddled over tons of glowing red orbs, speaking of taking revenge. A bunch of red monsters fly out of a castle where said shadowy figure is located.

Out in the forest, a tree falls — Gohan is gathering firewood. Gohan brings a bunch of of sticks back to his father, but mentions that all the trees seem to be dying. Mr. Popo suddenly shows up out of nowhere, and says that the Destron Gas is responsible for destroying the forest and other living things. Even Goku would die in 70 days from it, as strong as he is! Our heroes take off, as Chi-Chi calls from inside the house, wondering when her husband and son will come in for the food.

Inside Capsule Corp., Bulma looks up "Destron Gas" on her computer, but comes up with no results. Dende (Earth's new God) speaks telepathically to everyone, telling them that there are four places on Earth to look as the sources for this gas: Grand Apollon; in the desert of the Far West; Poco-Poco Volcano; and on the Ice Continent. Piccolo shows up, saying that since the old God has become a part of him, he can "see" everything, and knows of Earth's dire situation. Suddenly, the monsters from the castle at the beginning show up! Goku turns Super Saiyan and attempts a Kamehameha, but it does not work! He tries a second time with the same result. Piccolo tries a Makankōsappō, and Gohan tries a Masenkō, but no ki attacks are working! The Destron Gas is apparently also causing them not be able to focus their ki enough to use their attacks. Goku and the others use standard punches and kicks to defeat the enemies.

At Grand Apollon, Goku looks around, and finds some gas coming out of a rock. He breaks in to find a machine venting the Destron Gas. A series of ki blasts come from behind him, shot by an orange monster. Very upset and confused, Goku finds that his Kamehameha still will not work, so he kicks the monster down into a canyon and destroys the machine.

Gohan (as a Super Saiyan) is fighting a purple monster by the pyramids, but uses a flurry of quick attacks to easily defeat it, finishing him off with a Kamehameha. With a one-handed ki ball, Gohan destroys the machine in the desert.

A big purple monster tells Piccolo that he does not stand a chance, as the entire ground is littered with land mines. This does not faze Piccolo one bit as he simply flies up in the air. The monster jumps up after him, but falls and lands on the mines, which cause the entire island to explode. This, in turn, destroys the machine located there. Piccolo mutters that he did not think anyone was more of an idiot than Mr. Satan!

On the Ice Continent, Gohan, Piccolo, and Goku all face a permanent wall of ice. A big monster appears yet again, but this time many more pop up out of the ground! They all begin to fight, and our heroes are surrounded. Vegeta shows up as a Super Saiyan, as does Trunks, who mentions that monsters just attacked Bulma and his baby-self. Our heroes all join together and beat the entire lot of monsters, ending with a giant explosion. As the dust clears, the heroes all stand smiling. Dende tells everyone that there is now a fifth generator at Tongari Tower in the Western Metropolis!

Vegeta attempts to destroy the last machine (which is located outside on a ledge high atop a building), but a barrier protects it! A loud, commanding, and sarcastic voice comes from above: it is Freeza! Trunks, wide-eyed, says that he killed Freeza! More and more voices come in, all saying that the Saiyans will be killed by them. One by one, Coola, Tullece, and Slug appear, and they begin to float over and match up against each other: Gohan vs. Tullece, Trunks vs. Freeza, Goku vs. Coola, and Vegeta vs. Slug. Piccolo jumps in front of Vegeta, saying that he will be the one to fight Slug, the disgrace of the Namekian race. Vegeta mentions that these villains will never be able to match up to the power of our heroes, who have all gotten significantly stronger since their last battles. The fighting begins!

Goku hits Coola, but Coola "blobs" away and appears behind him! The shadowy figure laughs to himself as the battles continue. The same thing happens to Trunks as Freeza blobs away, with Piccolo as Slug blobs away, and with Gohan as Tullece blobs away. Kaiō-sama telepathically tells Goku that these villains are not themselves; they are ghost warriors! Our heroes land giant ki blasts on each villain. Piccolo grabs Slug with both hands, extends his arms and jumps away as Gohan rushes in and whistles in Slug's face. Piccolo finishes with a ki blast, himself. Freeza says that this is the power of their rage… and it is far greater than our heroes anticipate! Freeza fades away. Kaiō-sama says that our heroes need to attack the true being, Dr. Raichi, who is a Tsufruian. Vegeta explains who the Tsufruians are the begins that originally inhabited Planet Vegeta with the Saiyans, until the Saiyans destroyed the Tsufruians and took it over. Kaiō-sama explains that while the Saiyans were not an overly intelligent race, one day a Saiyan was born with great intellect and led a revolt against the Tsufruians (which happened to be Vegeta's father).

Kaiō-sama explains that Dr. Raichi is at the "Dark Planet". The narrator takes over and further explains that the ghost warriors keep coming back no matter what our heroes do. There is much more in store for them!








Part 2 (
下巻

; Gekan)

A recap of the last game is played as the narrator recounts the events thus far. In the time since the last game, our heroes have built a spaceship which is currently taking them to the Dark Planet. They fly through an electrical storm, but get through it with a little help from Kaiō-sama.

Our heroes have arrived, and a robot-being named "God Guardon" attacks Goku right away Making short work of God Guardon, Goku flies through him to obtain the victory. Vegeta proclaims that Goku can have the "small-fry", but he will be the one to destroy Dr. Raichi!

Goku breaks into a giant room, and is followed by everyone else. Dr. Raichi appears, saying he will take his revenge on the Saiyans. The balls surrounding him begin to glow even more. There is a flashback to Planet Vegeta as the Saiya have become Ōzaru. Dr. Raichi mentions that he was attempting to amplify the Tsufruians' hatred into a machine called "Hacchi Hyack," which took off in a spaceship after he was killed. Hacchi Hyack is the machine that created the ghost warriors. This means that Dr. Raichi is a ghost himself, too! Everyone rushes him, but Dr. Raichi puts up a type of barrier. Goku turns Super Saiyan, as does everyone else. The balls surrounding them glow faster and faster. Everyone attacks at once and breaks the barrier around Dr. Raichi. Vegeta uses his Final Flash to destroy Dr. Raichi. Gohan says that it is a shame a man with such great intellect was so set on revenge, rather than putting it to good use. Kaiō-sama says the last machine is destroyed, and a fun shot of everyone is shown as the end credits begin… and are interrupted!

Dr. Raichi is back?! A deep voice mutters about killing all the Saiyans. Outside, funky colors begin to swirl around the castle. Kaiō-sama says that Hacchi Hyack has collected the spite from within Dr. Raichi, and is growing in power. Vegeta mentions that now it is beginning to get a little interesting! Hacchi Hyack appears, running in and punching Vegeta, and proceeds to quickly beat the daylights out of everyone else. Vegeta tries a Final Flash, but it is no good, and he is hit by a ki blast from Hacchi Hyack. Goku and Gohan both attack, and are both knocked away. Piccolo saves Gohan from a blast, but ends up getting blasted, himself. Trunks and Gohan attack once more, but are both quickly beaten. Goku mutters to himself that Hacchi Hyack may even be stronger than Broli! Goku counts to fifteen and manages to dodge one of Hacchi Hyack's attacks, but ends up getting hit afterwards.

Piccolo gives a senzu to Gohan, saying that there are three remaining, and to give them to everyone else. As Vegeta is being heavily attacked, Gohan gives senzu to Trunks. He gives one to Vegeta, as well, after he lands. Goku tells everyone to launch their attacks together, and begins to count to fifteen. Goku unleases a Super Kamehameha, and Trunks a Burning Attack, while Gohan and Vegeta launch generic ki attacks at Hacchi Hyack at the 15 second mark. Hacchi Hyack is blasted out of the castle, which begins to crumble. Goku uses Shunkan-idō to teleport everyone out.

Back at Capsule Corp., everyone arrives. The narrator says that everything on Earth is back to life. Back at the Son household, Chi-Chi is still calling for them to come in for dinner!








Feature Notes
As noted, this "Official Visual Guide" was originally released on two VHS volumes as a complement to the Nintendo Famicom game of the same name, also released in 1993. The animation from this feature was reused and expanded upon in 1994 for a two-part video game series on the Bandai Playdia called Shin Saiya-jin Zetsumetsu Keikaku (True Plan to Eradicate the Saiyans). Due to them being actual video games with "wrong" actions to take, additional animation showcases these paths with their own full voice acting and music.
This feature was revisited sixteen years later as a shortened remake called Sūpā Saiya-jin Zetsumetsu Keikaku (Plan to Eradicate the Super Saiyans) and was included on the PlayStation 3 and Xbox 360 video game Raging Blast 2 in 2010. The overall story remained the same as the "Official Visual Guide" version with a few minor alterations.
For a full production and background explanation of this special feature, check out our respective "Tidbit" on the matter.
Name Puns
Please note that none of the following name puns have been officially confirmed, unless specifically noted otherwise. These are merely educated assumptions of the creator's intent.
The Tsufruians are the technologically advanced race that the Saiyans wiped out in order to take full control of Planet Vegeta. In contrast to the Saiyans, who are named for vegetables, the Tsufruians (ツフル人; Tsufuru-jin) name comes from the anagram of "fruits" (フルーツ; furūtsu). This further contrasts their differences, which essentially results in a war between fruits and vegetables.
Doctor Raichi gets his name from lychee, a subtropical fruit tree native to China. This is the same thing that the fake Namekian Raichi is named after, although the two characters' names are spelled slightly differently in Japanese, with the fake Namekian having an extended "i" sound on the end of his name (ライチー; Raichī), which the doctor lacks (ライチ; Raichi). This makes the doctor's name exactly the same as its namesake, while the fake Namekian's is just slightly different.
Hacchi Hyack's name most likely comes from yaoya (八百屋), "greengrocer", a store that specializes in fruits and vegetables. The yao (八百) portion means "eight hundred"; normally 800 is read as happyaku, but yao is an alternative reading. 800 in Japanese is shorthand for "a whole lot", and ya means "shop", so in theory a yaoya would be a shop that sells all kinds of stuff, though in practice they focus on fruits and vegetables. When used together, 八百 is read as yao or happyaku, but 八 (8) separately is read as hachi while 百 (100) is read as hyaku. So, you can then see how hachi and hyaku could be altered into "Hacchi Hyack", and a greengrocer fits in with the Tsufru fruit theme very well.
"God Guardon" (ゴッドガードン; Goddogaadon) is a combination of English word "god" as it is written in Japanese plus the English word "guard" as it is written in Japanese (ガード; gādo) with an "n" sound appended.
(see this thread for additional tidbits)
Feature Credits
All credits listed below are a combination of the credits found in "Part 1" and "Part 2" of the feature. The credits for both "Part 1" and "Part 2" followed the same structure, but certain positions did have slightly different staff. These staff differences have been noted in the credits with their specific associated listed. Unlike the traditional credit structure found in typical Dragon Ball episodes, this feature does not contain any opening credits. All original credit errors have been corrected to maintain accurate spellings throughout the site.
Cast Credits
The cast credits are listed in rough order of introduction within the feature. For more detailed information about the series cast, visit the Cast Guide.
孫悟空

Son Goku

孫悟飯

Son Gohan

野沢雅子

Masako Nozawa

ピッコロ

Piccolo

古川登志夫

Toshio Furukawa

トランクス

Trunks

草尾 毅

Takeshi Kusao

ベジータ

Vegeta

堀川 亮

Ryō Horikawa

ブルマ

Bulma

鶴 ひろみ

Hiromi Tsuru

チチ

Chi-Chi

渡辺菜生子

Naoko Watanabe

デンデ

Dende

鈴木富子

Tomiko Suzuki

ミスターポポ

Mister Popo

西尾 徳

Toku Nishio

ドクターライチ

Doctor Raichi

小川真司

Shinji Ogawa

ハッチヒャック

Hacchi Hyack

屋良有作

Yūsaku Yara

フリーザ

Freeza

クウラ

Coola

中尾 隆聖

Ryūsei Nakao

スラッグ

Slug

屋良有作

Yūsaku Yara

ゴッドガードン

God Guardon

江川央生

Hisao Egawa

モンスター

Monster

江川央生

Hisao Egawa

ナレーション

Narration

八奈見乗児

Jōji Yanami
Ending Credits
企画

Planning

週刊少年ジャンプ

Weekly Shōnen Jump

Vジャンプ

V-Jump

東映動画株式会社

Toei Animation Co., Ltd.

製作

Production

東映動画株式会社

Toei Animation Co., Ltd.

原作

Original Author

鳥山 明

Akira Toriyama

(週刊少年ジャンプ連載)

(Weekly Shōnen Jump Serialization)

プロデューサー

Producer

森下孝三

Kōzō Morishita

脚本

Script

小山高生

Takao Koyama

プロデューサー補

Assistant Producer

蛭田成一

Sei'ichi Hiruta

声の出演

Voice Performances

~~~~

作画監督

Animation Supervisor

島貫正弘

Masahiro Shimanuki

原画(上巻)

Key Animation (Part 1)

竹内留吉

Tomekichi Takeuchi

飯塚葉子

Yōko Īduka

久田和也

Kazuya Hisada

舘 直樹

Naoki Tate

島貫正弘

Masahiro Shimanuki

原画(下巻)

Key Animation (Part 2)

竹内留吉

Tomekichi Takeuchi

久田和也

Kazuya Hisada

舘 直樹

Naoki Tate

大西陽一

Yōichi Ōnishi

志田直俊

Naotoshi Shida

山室直儀

Tadayoshi Yamamuro

沖本日出子

Hideko Okimoto

梨沢孝司

Takashi Nashizawa

稲葉 仁

Hitoshi Inaba

島貫正弘

Masahiro Shimanuki

動画(上巻)

In-Between Animation (Part 1)

山下 恵

Megumi Yamashita

村上佳子

Yoshiko Murakami

楠 知津子

Chizuko Kusunoki

足立聡美

Satomi Adachi

又野美千代

Michiyo Matano

篠原健二

Kenji Shinohara

松田千織

Chiori Matsuda

小窪久利

Hisatoshi Kokubo

動画(下巻)

In-Between Animation (Part 2)

山下 恵

Megumi Yamashita

松田千織

Chiori Matsuda

又野美千代

Michiyo Matano

楠 知津子

Chizuko Kusunoki

設定レイアウト

Scene Layout

窪田忠雄

Tadao Kubota

美術

Art Director

田尻健一

Ken'ichi Tajiri

背景(上巻)

Backgrounds (Part 1)

田中資幸

Motoyuki Tanaka

ムクオスタジオ

Mukuo Studio

窪田忠雄

Tadao Kubota

栗原ひとみ

Hitomi Kurihara

背景(下巻)

Backgrounds (Part 2)

田中資幸

Motoyuki Tanaka

池田 尚

Hisashi Ikeda

ムクオスタジオ

Mukuo Studio

品田純子

Junko Shinada

仕上(上巻)

Finishing Touches (Part 1)

大堀陽子

Yōko Obori

増井美知子

Michiko Masui

柴 真弓

Mayumi Shiba

小坂智美

Satomi Kosaka

内田 敦

Atsushi Uchida

仕上(下巻)

Finishing Touches (Part 2)

大堀陽子

Yōko Obori

吉沢啓子

Keiko Yoshizawa

本橋政江

Masae Motohashi

瀬口愛子

Aiko Seguchi

裏本ジーン

Jīn Uramoto

特殊効果(上巻)

Special Effects (Part 1)

河内正行

Masayuki Kawachi

特殊効果(下巻)

Special Effects (Part 2)

平尾千秋

Chiaki Hirao

ゼログラフ(上巻)

Xerography (Part 1)

金井八重子

Yaeko Kanai

ゼログラフ(下巻)

Xerography (Part 2)

鳥本佐智子

Sachiko Torimoto

検査(上巻)

Inspection (Part 1)

沢田豊二

Toyoji Sawada

検査(下巻)

Inspection (Part 2)

坂本陽子

Yōko Sakamoto

撮影(上巻)

Photography (Part 1)

三晃プロダクション

Sankō Productions

谷口直之

Naoyuki Taniguchi

間嶋秋信

Akinobu Majima

松平高吉

Takayoshi Matsudaira

岩崎 敦

Atsushi Iwasaki

吉野和宏

Kazuhiro Yoshino

ひろかわふみお

Fumio Hirokawa

撮影(下巻)

Photography (Part 2)

三晃プロダクション

Sankō Productions

谷口直之

Naoyuki Taniguchi

間嶋秋信

Akinobu Majima

武田純一

Jun'ichi Takeda

松下力也

Rikiya Matsumoto

ひろかわふみお

Fumio Hirokawa

音楽

Music

石川恵樹

Keiju Ishikawa

編集

Editing

福光伸一

Shin'ichi Fukumitsu

編集助手

Editing Assistant

麻生芳弘

Yoshihiro Asō

録音

Recording

二宮健治

Kenji Ninomiya

録音助手

Recording Assistant

田中英行

Hideyuki Tanaka

音響効果

Sound Effects

新井秀徳

Hidenori Arai

録音スタジオ

Recording Studio

タバック

TAVAC

製作担当

Production Manager

山口彰彦

Akihiko Yamaguchi

監督助手(上巻)

Assistant Director (Part 1)

門田英彦

Hidehiko Kadota

監督助手(下巻)

Assistant Director (Part 2)

岡本晴久

Haruhisa Okamoto

製作進行(上巻)

Production Progression (Part 1)

柳 義明

Yoshiaki Yanagi

製作進行(下巻)

Production Progression (Part 2)

藤岡和実

Kazumi Fujioka

美術進行

Art Manager

福本智雄

Tomō Fukumoto

仕上進行

Finishing Manager

植木知子

Tomoko Umeki

記録

Documentation

小川真美子

Mamiko Ogawa

現像

Film Development

東映化工

Toei Chemistry

監督

Director

山内重保

Shigeyasu Yamauchi