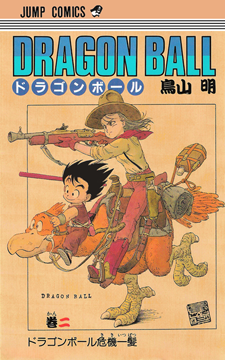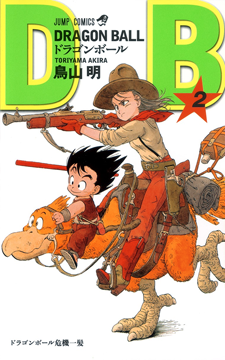 ドラゴンボール危機一髪
Doragon Bōru Kiki Ippatsu
A Critical Moment for the Dragon Balls
General Information
First Release:
10 January 1986 (print edition)
12 October 2012 (digital edition)
Retail:
¥360, not taxed (initial print edition)
¥400 + 5% tax (current print edition, since May 2009)
¥350 + 5% tax (digital edition)
Publisher:
Shueisha
Size / Pages:
New Book Format (11 × 17 cm) / 192 pages
Catalog No.:
ISBN 4-08-851832-2
Introduction
The volume's introduction from author Akira Toriyama is printed on the front flap of the dust cover and accompanied by a small color illustration.

Happy New Year. …Which means that I, who made my debut in comics at my 23rd New Year's, have now come to my 30th. I've thoroughly managed to become a "real" cartoonist. Anyhow, this is a tough business: it seems like, if you've got work to do, then you're so busy that there's no time for sleep, but if you don't have any work, then you don't know what to do with yourself, and there's nothing to do but sleep. I really hate being busy, but I also don't like not knowing what to do, so I'm doing my best.
Contents
This volume compiles chapters 12 to 24 as originally serialized in Weekly Shōnen Jump, covering issues 1985 #12 to 1985 #24. All chapter title pages shown below are those included in this volume. The chapter premiere dates listed below are based on the sale date of their respective issue of Weekly Shōnen Jump, which is when that issue officially went on sale.
Chapters (012 – 024)

亀仙人をたずねて
Kame-Sen'nin o Tazunete
In Search of Kame-Sen'nin
19 February 1985
Weekly Shōnen Jump 1985 #12

亀仙人の芭蕉扇
Kame-Sen'nin no Bashō-Sen
Kame-Sen'nin's Bashō Fan
26 February 1985
Weekly Shōnen Jump 1985 #13

亀仙人のかめはめ波!!
Kame-Sen'nin no Kamehameha!!
Kame-Sen'nin's Kamehameha!!
05 March 1985
Weekly Shōnen Jump 1985 #14

七星球発見
Chīshinchū Hakken
The Seven-Star Ball is Found
12 March 1985
Weekly Shōnen Jump 1985 #15

ウサギの耳
Usagi no Mimi
Rabbit Ears
19 March 1985
Weekly Shōnen Jump 1985 #16

オヤブンの得意技
Oyabun no Tokui Waza
The Boss's Special Skill
26 March 1985
Weekly Shōnen Jump 1985 #17

D。B。奪われる!!
Doragon Bōru Ubawareru!!
The Dragon Balls Are Stolen!!
02 April 1985
Weekly Shōnen Jump 1985 #18

ついに龍あらわる!
Tsui ni Doragon Arawaru!
At Long Last, the Dragon Appears!
09 April 1985
Weekly Shōnen Jump 1985 #19

神龍への願い!!
Shenron e no Negai!!
The Wish to Shenlong!!
16 April 1985
Weekly Shōnen Jump 1985 #20

23 April 1985
Weekly Shōnen Jump 1985 #21

悟空の大変身
Gokū no Dai-Henshin
Goku's Great Transformation
27 April 1985
Weekly Shōnen Jump 1985 #22

ドラゴンチーム解散
Doragon Chīmu Kaisan
The Dragon Team Parts Ways
04 May 1985
Weekly Shōnen Jump 1985 #23

亀仙人の修業料
Kame-Sen'nin no Shugyō Ryō
The Price of Kame-Sen'nin's Training
14 May 1985
Weekly Shōnen Jump 1985 #24
Toriyama-san's Dragon Ball Ask-Me-Anything Corner
Each of the first 12 tankōbon volumes contains a short, two-page Q&A session with Akira Toriyama (essentially the continuation of a similar section in Dr. Slump), where he answers questions sent in by readers. Anyone was able to send in a postcard to the address listed in the book, and individuals whose submissions ran in a subsequent volume were promised a signed illustration (shikishi) from Toriyama himself. This solicitation remained in place in all printings through mid-1995 (the end of the series' run in Weekly Shōnen Jump), after which it was removed. The Q&A section is not included in the digital edition.
The first six volumes also included an invitation to join Toriyama's official fan club, the "Akira Toriyama Preservation Society" (Toriyama Akira Hozon-Kai), whose members received a newsletter with "inside stories" and other bonus content that would "make the comics ten times more fun". Readers were invited to send a ¥60 stamp in an envelope to the address given, after which they would receive a membership form. This invitation remained until May 1987 (concurrent with the publication of volume 7); it was then replaced with a notice that the club had reached its predetermined membership limit, and an apology to those who still wished to join. This notice remains in current printings, even though the club has long since disbanded, with the final newsletter (issue #25) published in September 1987.
Notes
This volume omits eight of the original chapter title pages (a ninth is present, but was repurposed as the front cover of the volume), although seven of them were later included in the kanzenban release. The title page used for Chapter 18 in Weekly Shōnen Jump was repurposed as the title page for Chapter 19, presumably because the Chapter 19 title page was used as the book's cover (as noted in Daizenshuu 1: Complete Illustrations), and there would have otherwise been an awkwardly-placed blank page in that spot.
This is the first of only four tankōbon volumes not to include a "Title Page Special Feature" section showcasing chapter title pages "as they appeared in Weekly Shōnen Jump" at the back of the volume.
Supplemental Images
The following supplemental images are included in this volume and are original illustrations drawn by Akira Toriyama exclusively for this tankōbon volume:


Staff Credits
Note that the publisher credited varies by print edition based on the staff at Shueisha at the time of its printing. The publisher listed below coincides with this volume's first edition printing.
著者

Author

鳥山 明

Akira Toriyama

編集

Editing

ホーム社

Home-sha Co., Ltd.

発行人

Publisher

堀内末男

Sueo Horiuchi

発行所

Publishing House

株式会社 集英社

Shueisha Co., Ltd.

印刷所

Printing House

凸版印刷株式会社

Toppan Printing Co., Ltd.